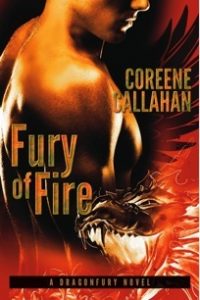 Fury of Fire by Coreene Callahan
Romantic fantasy with flare and fire! Bastian is a warrior, a leader and a dragon-shifter sworn to protect humans.  But, a battle with another clan of shifters has forced his hand and he must find a mate, and have a child.  The problem, the mate must be human, and humans can't live through birthing dragon-shifters.
Myst is a nurse practitioner working in Washington state. Long, lonely hours.  When fate puts her into the path of Bastian sparks fly.
Together they are drawn further and further into the intrigue of Bastian's world.  Humanity is threatened and while Myst and Bastian slowly find themselves drawn into passion and an attraction so powerful it threatens to consume them, Bastian is left to  save humanity by sacrificing the woman he loves.
Modern day, fantasy and paranormal with hot romance, Coreene Callahan has created memorable characters and a seemingly impossible situation. That is storytelling at its best! Fury of Fire, the first in the Dragonfury series is out now and Fury of Ice, the second book in the series is due out in June of 2012.