There is a small store in London where magic happens at the end of a needle. In the newest series from bestselling author, Jade Lee you'll be whisk inside A Lady's Favor dress shop. Once inside, you won't want to leave.
Filled with ribbons of humor, flounces of intrigue and woven together in the fabric of love, Ms. Lee's Bridal Favors series brings Regency England to life.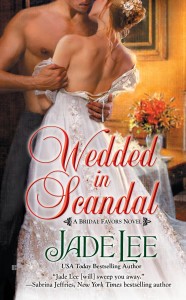 Each book in this new series will feature a different woman who by circumstances, usually not good circumstances, comes to own or work at the dress shop.  Beginning with the prequel to the series, Engaged in Wickedness, her heroine Lady Gwendolyn is a woman with too much curiosity. She captures the imagination of a quiet baron and her life, and her passions will never be the same. Yet, everything is not as it appears, and old secrets have a way of raising from the darkness.
Featured in the next book, Wedded in Scandal is a disgraced Lady Helaine. Her father was thrown out of polite English society for being a liar and a thief. The scandal leaves her unfit for marriage, and financially destitute. She opens the dressmaker's shop under an assumed identity. Her world is difficult, but she is earning her way. Her biggest threat is that someone will learn of her true identity.
Enter the Viscount of Redhill, Robert Percy. He is handsome, he is regal, and he is attracted to the mysterious woman. With her scandalous past, will they be able to give their love a chance? There are obstacles to overcome, but love does have a way of conquering all.
At present, there are two additional books forthcoming in the series: Wedded in Sin (June 2012) and Engaged in Passion (October 2012).
If you love rich, finely detailed Regency historicals, The Bridal Favors Series from Jade Lee will take you there. It is a fun, well-crafted, adventurous read sure to please her legion of fans.