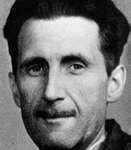 In honor of George Orwell, the Orwell Prize is: "in its present form by the late Professor Sir Bernard Crick in 1994, 'to encourage writing in good English – while giving equal value to style and content, politics or public policy, whether political, economic, social or cultural – of a kind aimed at or accessible to the reading public, not to specialist or academic audiences'."
It is considered the "most prestigious prize for political writing" in Britain. There are four categories in which literary work is judged and considered; book prize, journalism prize, blog prize and special prize. The awards ceremony will be held on May 23, 2012, at Church House in London.
Here is a list of nominees in the book category. For the complete list visit the Orwell Prize website. 
Short lists – Book