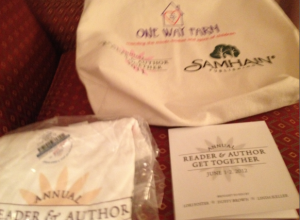 Each year I am fortunate enough to attend Lori Foster/Duffy Brown's Reader and Author Get Together in Ohio. I've attended the last six years, but this year they had to cap the attendance at around 400 attendees. With volunteers and guests there were between 450 and 500 total, but it never lost that intimate feel that this event is known for.
Each year authors, publishers and industry professionals donate gift baskets and swag. There were 170 gift baskets donated this year alone. In previous years swag was found in both the registration bags and in a small area within the main ballroom. But, this year everything was put into the registration bags or you might find a little something at the author's table during a book signing.
As in previous years, I do a review of the swag, listing the best of the best in several categories. I think it's good to give feedback to authors who invest in bookmarks, giveaways and other little things in the hope that someone will take notice, remember them and, hopefully, buy a book.
I did several little videos of the best swag and broke it down into categories so that I could mention more than just my top three picks this year. Admittedly, I may not have received every piece of swag there was since I noticed that some of the registration bags had things mine did not have. But, I have reviewed what I had and am ready to share the results!
Please forgive the sideways view of the video. We had some technical difficulties, but you can see the different items and they're worth checking out.
Business Cards and Trading Cards are the first to be reviewed and I share my top three picks. For business cards I loved Joy Harris of Joyfully Reviewed as my #1 choice, with Keri Stevens coming in second and Wendi Feltor, CEO of Red Rose Publishing coming in 3rd. I share my reasons for why I like the cards and chose these from over approximately 75 cards.
In the same video I review Trading Cards which have become very popular with authors and readers lately. My top picks were by Carly Phillps, Keri Stevens and Literary Escapism.
Bookmarks are always a favorite. There were at least 100 of them that I sorted through to get the best of the best. There were so many wonderful book marks that I do have several "honorable mention" book marks that I show, but my top three were fantastic! My top pick at the #1 spot was a beautiful peacock mask graphic that I fell in love with, compliments of author Tonya Macalino. My second favorite was by author Jennifer Estep and the third place winner is Jennifer Anderson who has a funky little pink-and-zebra book mark that makes me smile just to look at it.
The next category is referred to as the "Post Card" category, so these are post card sized and I do have several honorable mentions for these. I found that I preferred the cards that used both sides, something I also liked when reviewing the book marks.
My top picks for the post cards were Ellora's Cave with their Something Wicked This Way Comes anthology, Janice Maynard for her quality card and Melissa Mayhue for use of space and magical crotch picture. Yeah, "magical crotch" picture. You might laugh, but it made me take notice and remember her name.
Best Pens went to Carina Press, Allyson Young and Anara Bella for both the look and function of the pen. Miscellaneous Swag has several interesting honorable mentions worth checking out, but the top three picks were Carina Press' I love Zombies sticker, Marcia James' very cute paw-shaped box cutter and the #1 pick went to Paty Jager for her amazing ebook covers!
Several authors and companies put together entire packets. The packets had several items, but I put them into a category of their own since it takes time to fill those packets and it comes in a grouping of items. The top picks included Elaine Levine for her fun word magnet packet, Sherry Wolf for the beautiful ring and things and my #1 choice was from Shannon K. Butcher for the lovely, decorative book mark.
Some other items I really liked included the Book Breeze periodical, a Romance at Random booklet that gives you information on some $2.99 books that look great! And, I really love something that Author Island does every year where they give out a form for attendees to have signed by Author Island authors and once it is all signed that attendee turns it in for a chance to win an ereader.
People put a lot of thought into the material they give away at conferences and I think it's helpful to know when your items really stand out. Congratulations to all the top picks from Reader's Entertainment!