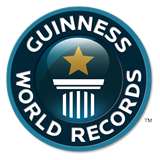 You know the book, you probably know some of the world records contained within it's pages and soon you'll be seeing the movie. Warner Brothers has acquired the movie rights to the iconic Guinness Book of World Records. While there is no release date or production schedule posted, writer Danny Chun (The Office) has been tapped to write the screenplay, and Thunder Road Productions will head up the production.
According to information from the MovieWeb.com blog, "the studio plans to take some of the record-breaking events chronicled in the book, and use them in an action-adventure setting."
Attempts have been made to create movies and television series on record setting books like Ripley's Believe it or Not with lukewarm success on TV and it was yanked from development as a movie. Many in the entertainment industry don't see too many plausible script options of creating a movie out of world records.
We will update readers if there are any dates for release posted.