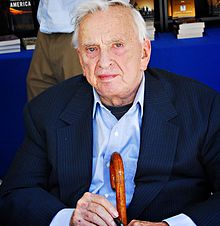 Iconic American author Gore Vidal passed away July 31 at the age of 86. His writing covered the spectrum from political essays, to short stories, novels, screenplays, Broadway plays, and numerous articles. Some of his most well-known works were Myra Breckinridge, Burr, 1876, and Lincoln, and the screenplay Ben-Hur which won him an Oscar.
Vidal served in the U.S. Navy during WWII, was an outspoken political commentator, and wrote books that often caused a fervor for their sometimes explicit content.
He was often to compared to Oscar Wilde, and Newsweek call him, "the best all-around American man of letters since Edmund Wilson."
He unsuccessfully ran for political office twice, as a Democrat. He said of both political parties: "There is only one party in the United States, the Property Party … and it has two right wings: Republican and Democrat. Republicans are a bit stupider, more rigid, more doctrinaire in their laissez-faire capitalism than the Democrats, who are cuter, prettier, a bit more corrupt — until recently … and more willing than the Republicans to make small adjustments when the poor, the black, the anti-imperialists get out of hand. But, essentially, there is no difference between the two parties."
With over 25-novels to his credit, an outspoken manner and a lifestyle out of the ordinary, his unique prose and thought-provoking words will be missed.