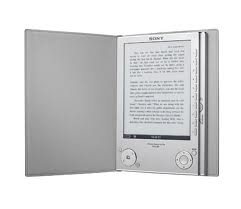 Sony just announced they are launching the Sony Readers Book Club. Each month, a new book will be selected and Sony will host an online chat with the book's author at the end of the month. Books already selected include; Daughter of Smoke and Bone, by Laini Taylor, Flight Behavior by Barbar Kingsolver and When it Happens to You by Molly Ringwald.
Here's more from Sony's blog: 
Each month, Sony Reader Store will select a book of the month to feature in a virtual Book Club gathering, an online chat with the author, on the Sony Reader Store Facebookand Twitter pages. Starting November 28 you'll get the opportunity to chat about the book of the month with the author and fellow book lovers.
Here's a quick look at the lineup for our first four months.
November 28 (12:30 PM PST): Daughter of Smoke & Bone by Laini Taylor
January 16 (12:30PM PST): Flight Behaviorby Barbara Kingsolver
February 15 & 16 (1:30PM PST): The Black Box by Michael Connelly
March 14 (12:30 PM PST):  When It Happens To You by Molly Ringwald
We are also looking for 25 VIP members to join 'Sony Readers Book Club' who will each receive a Sony Reader device and cover with light, as well as the first four Book of the Month ebooks for free. In February, the 25 VIP members will also be invited to an in-person book club and meet-and-greet with author Michael Connelly in Los Angeles. The VIPs will receive airfare, hotel, transportation and meals for the duration of the weekend – pretty sweet deal. All we ask is that you read the books and participate in the chats.
For additional information, visit Sony's Reader Blog.