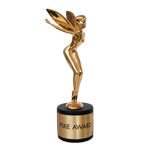 The Embrace book trailer produced by Circle of Seven Production, has been awarded the 2012 Gold Pixie Award in Motion Graphics. The Pixie Award is sponsored by the American Pixel Academy and honors outstanding work in the fastest-growing area of the moving pixels industry: Motion Graphics, Effects, and Animation. The editor for the book trailer was Michael E. Miller and the scriptwriter is Sheila English.
Embrace is the latest release from author Jessica Shirvington in the Violet Eden/Embrace young adult series from publisher Sourcebooks. On her 17th birthday, everything will change for Violet Eden. The boy she loves will betray her. Her enemy will save her. She will have to decide just how much she is willing to sacrifice. Learn more about this book here, http://bit.ly/p8li3j and its author here, http://bit.ly/qQKeWz Embrace us here, http://on.fb.me/yeeVPX YA
The book trailer has received over 11,000 hits on Youtube, the book trailer was featured on Entertainment weekly, (http://shelf-life.ew.com/2012/02/20/embrace-book-trailer-jessica-shirvington/) and the books have been optioned by Steven Spielberg's Amblin Entertainment to be developed as a television series on the CW network.
"Circle of Seven did an amazing job bringing Jessica Shirvington's novel and the Embrace cover imagery to life.
The trailer received rave reviews online." -Derry Wilkens, Sourcebooks.
COS Productions is a specialty company. Our number one focus is multimedia and online marketing. We create quality, entertaining book videos, and are constantly looking for innovative ways to bring in new readers. With the recent opening of an office in the U.K., Circle of Seven Productions is taking book trailers international.