Many authors and readers overlook the amazing promotional opportunity of book clubs. Today, I have guest blogger, Kimberly Radicy Rocha who is the founder and CEO of Book Obsessed Chicks, an online, digital and real world book club.
Book Obsessed Chicks  by Kimberly Radicy Rocha
The greatest joy I have had in my life aside from my kids has been starting and running my book club, Book Obsessed Chicks. It all began as "chick night" where about ten of my girlfriends and sometimes a guest of theirs would come over for dinner and drinks and great conversation that inevitably ended up with us talking about books.  What I found out, is that we all had the Romance genre in common. It's what we love to read. So on the spur of the moment during a get together in 2009; I said "How about change this from a regular "chick night" to a real book club meeting?"  That went over very well and today, Book Obsessed Chicks boasts about 35 local members with dozens over the country and even a few overseas.
After planning a signing for authors Lara Adrian and Donna Grant at my local book store in the summer of 2011 I got the idea of having authors come to my home for a more intimate event.  Once having a romance author in my home for an evening, the group realized how difficult a time authors have in promoting their books. Finding out how much time and effort writers must go through once their books are released and even before was astonishing and it gave me some ideas. Using the book club and my big mouth could actually help get the word out about these book and authors I love.
Once I started the book club I also started a blog and Facebook page with the same name as the book club. I use the blog to
review and promote.  Authors started emailing me to see if I could possibly review their books for the blog, but the reviews on there are mostly what I normally read. I find that social media is a great help in finding new authors and fans as well.  It all comes down to word of mouth. 
Once I have met and chatted with an author, I became interested in their work.  If they are a local author or I find are going to be in the area, I ask if they can join the book club for an evening. Once that is set, and all the ladies in the club are told, some run right out and buy whatever book the author has, some wait to meet the author and ask about their books. The great thing about a book club is that once the members find out about a writer and their work, they spread the news to all their friends elsewhere and they hand promo material out about the books.
Even further than this, my members attend various author events and conferences, whether it's on their own or as a group, and they always bring back something new to discuss.  The Book Obsessed Chicks even has an annual BBQ event and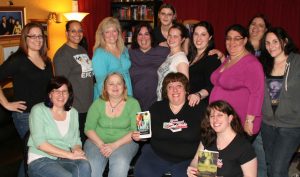 Christmas party where multiple authors come and are able to promote what they have coming up.
If you are an author, don't be afraid to approach a book club, The first few authors who came to my home had me checked out with others to make sure I was "ok", and that is great. The book club not only wants to know about what you have coming out soon, but your body of work as well. Don't feel badly about bringing your promo material, we love that and share it everywhere.
If you have a book club, find out what authors live in your general area, or if they are going to be at a local event. I usually email and author if I can get an email address, but I have been known to start messaging on Facebook.
Reader/ Author relationships have become essential in this day and age where there are just so many books out there. If you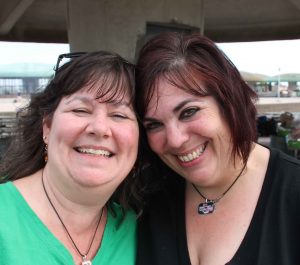 love something you should let the world know so they have the chance to see why you love it.  
I will admit that the Book Obsessed Chicks may be a bit different from other book clubs in the fact that I don't pick a book for the girls to read anymore, we basically go by the author who is coming, or has made contact with us. It's so much more exciting that way and keeps things fresh.
Book Obsessed Chicks Honored Author Guests: