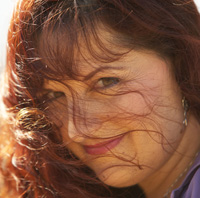 Using ancient mythology to build a Paranormal World
By – Lisa Kessler
When I decided I wanted to try my hand at writing a novel, I wanted to write a book that I would love to read. As a reader, I enjoy vampire tales. I love meeting characters who have lived lifetimes. They have incredible power, but it comes at such a high price.
But I also wanted my "vampire" to be based in the Americas, not the European myths of Dracula or Anne Rice or Christine Feehan. (All favorites of mine!) I wanted my immortals to have a different flavor.
I started researching the oldest civilization in the Americas, the Mayans. Blood was a huge part of their society and beliefs, so
it felt natural that my "Night Walkers" could have been immortal blood drinkers worshipped as gods from the Mayan times.
Immersing myself in research books, I finally made the trip to the Yucatan to experience the jungle and the ruins for myself.It was a life-changing trip, not only for me, but for my Night Series. Hiking the El Castillo pyramid at Chichen Itza was one of the coolest and most terrifying things I've ever done, but I'm so glad I did it. beliefs, so it felt natural that my "Night Walkers" could have been immortal blood drinkers worshipped as gods from the Mayan times.
Much of Night Demon, the newest release in the Night Series, takes place in the Yucatan jungle. I hope readers will be able to discover another world, and lose themselves in the story.
What are some locations you've enjoyed visiting while reading a book?
Lisa
Don't be a stranger…
Twitter
Facebook
Lisa's Amazon Page
Lisa's Website
BLURB –
Deep within the Yucatan jungle, a demon has awakened…
Gretchen Finch's job would be much easier if she weren't alone in the jungle with a brilliant recluse whose every glance sets her on fire. But the more she focuses on her work, the closer she gets to unlocking the mysteries of a terrible creature—the Night Demon—that threatens the world as she knows it. Though her scientific mind tells her it's impossible, she's beginning to believe the ancient Mayan tales as the sinister jungle comes alive around her.


Lukas Smith has spent hundreds of years searching for answers to his immortal Night Walker nature. As a series of ancient glyphs become clear, he's about to find out more than he'd ever hoped, but the more he learns, the more his fate intertwines with the Night Demon, and the harder it becomes to hide his immortal secret from the beautiful, intelligent Gretchen.
Together, they must find a way to stop the inexplicable violence and mass destruction surging across the earth before the Night Demon destroys more than just mankind.
http://www.amazon.com/Night-Demon-ebook/dp/B00BU40QAY/