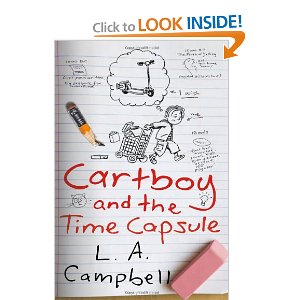 Cartboy and the Time Capsule looks at the challenges of middle school through the eyes, and assignment of one Hal Rifkind, sixth grader. The book could be read by ages 8 and up with discussions including peer pressure, what to do when you get embarrassed, empathy, responsibility and mean kids.
Hal's assignment is to write a journal to kids of the future which will be put into a time capsule and not opened for many years. Hal's journal entries are hilarious and reflect the point of view of your typical sixth grader trying too hard to make a name for himself while not humiliating himself. A true challenge for any sixth grader!
The book is somewhat reminiscent of Diary of a Wimpy Kid in that we have the boy's POV and the journal includes illustrations and pictures. This is a charming and humorous look at being a sixth grader.
You can find out more about the book and the author at his website.
About the Author: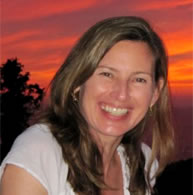 L.A. (Lori) Campbell was born in Holland, Michigan. She moved to New Jersey when she was sixth months old. "I hardly remember that," she is known to say when asked about the transition. After graduation from the University of Colorado in Boulder, L.A. moved to New York to start a career in advertising as a copywriter. At 28, Lori started her own ad agency, Dweck & Campbell. The agency won many creative awards including a Cannes Gold Lion on brands such as Comedy Central, New York Magazine, and the famous Dial A Mattress.
In 2002, Lori began a brief hiatus from writing, during which time she and her husband raised two small children and a somewhat vicious cat.