Author Kim Law has a great sense of humor, romance and happily ever after so we were so thrilled to be able to catch up with her at this year's RT Booklover's Convention in Kansas City at the book signing.  She gave us a little taste of what her new book Ex on the Beach is about!
Here's a little excerpt from her website and then watch the interview for more!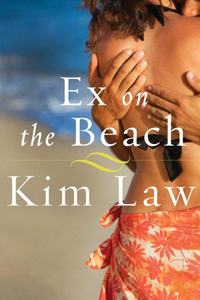 She vowed to protect her heart…
Andie Shayne believes in forever…for everyone else. She has an up-and-coming wedding planning business, and her own failed engagement, to prove it. Now, all Andie wants is to save the date for Seaglass Celebrations becoming a premier destination wedding resort. And making sure the wedding of the summer goes off without a hitch will get her there – despite the arrival of one unexpected guest.
The sexy-as-sin best man…who's also the ex who broke Andie's heart.
Mark Kavanaugh wants to make amends with Andie. He knows breaking off their engagement—at the altar!—was unforgivable. But he's a wiser man now, vowing to make peace with his past. But with desire reigniting on Turtle Island, Mark realizes he never stopped loving Andie. He wants her; and this time, he's determined to do it right.