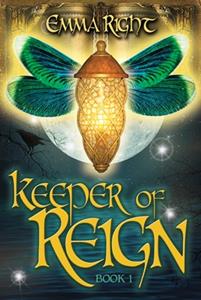 Keeper of the Reign 
A delightful, epic adventure/fantasy debut novel for young adult readers. Keeper of the Reign has risen in Amazon's charts and is currently #12 in the Kindle store in Epic/Fantasy. The book is available to readers for FREE for a limited time at Amazon. Follow this link to download your copy. 
Sixteen-year-old Jules Blaze is an Elfie – half elf, half fairy, living in a cursed Kingdom. The Keepers, entrusted to protect sacred Books written in blood, have long forgotten their purpose and struggle with the effects of the curse.
Jules finds himself in the crosshairs of an evil lord bent on destroying Keepers and their Books. His mother is a Keeper and she has disappeared, along with his grandparents. His father is nowhere to be found, and Jules now finds himself alone with four siblings to protect and a house ravaged by the enemies.
War rages on all sides of his homeland. Agents and assassins sent by the evil Gehzurolle are determined to kill him. Jules must find an ancient book whose secrets are the only thing that could give him answers and save him, his family and his homeland.
 EXCERPT:
Jules said, "We need a plan. Let's check what's missing." He rushed to the hearth and pried the loose brick to the side. He reached his arm deep and thought he felt the soft nap of the pouch but then he jerked his hand back out and sucked on his finger." Ouch!" 
Ralston said, "We can't afford to lose your pouch—maybe the only way to buy things if we have to look for Mom or Dad."
Jules glared at him.
Ralston said, "What's wrong?"
Jules reached back into the hole, this time less enthusiastically. "Something sharp." When he pulled it out he stared at the shard of glass in his hand. "Hold this, Rals."
Ralston held the sharp edge gingerly. "Is it yours?"
"Would I put something sharp like that to cut myself up?" Jules then brought out his pouch, and sighed. He gave its contents a quick peek and slipped the soft pouch into his cloak pocket.
"It's a good thing the burglars missed that," Ralston said. "Should we toss this?" He passed the shard to Jules who turned it over.
"Some words here." He read, "'—ook within.' What's that mean?"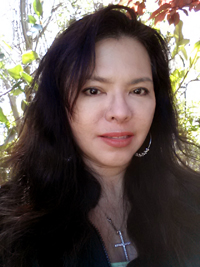 About Emma:
Emma Right is a happy wife and homeschool mother of five living in the Pacific West Coast of the USA. Besides running a busy home, and looking after their five pets, which includes two cats, two bunnies and a Long-haired dachshund, she also writes stories for her children. When she doesn't have her nose in a book, she is telling her kids to get theirs in one.Right worked as a copywriter for two major advertising agencies and won several awards, including the prestigious Clio Award for her ads, before she settled down to have children.Visit Emma Right at her home site and blog for tips and ideas about books, homeschooling, bible devotions, and author helps of various sorts: 
www.emmaright.com
 and follow her on facebook emma.right.author. You can read sample chapters at her website
Links:
Keeper of the Reign in available in multiple formats.
Amazon link e-book (I also have it as a paperback–if you want):
BN.com
Kobo:
IBook: