The perfect mix of historical fact and amazing fiction, In Defense of the Queen brings author Michelle Diener's beloved characters Susanna and Parker on another adventure of intrigue.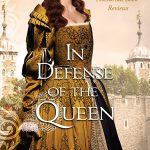 It is the time of King Henry VIII and Susanna's received a note from her father with information to be given to Queen Katherine from Margaret of Austria.  Parker is a trusted courtier of the king.  They must make sense of conspiracies coming from everywhere, make the right decision, keep from being killed or imprisoned and remain true to each other.
I love well researched historical fiction and great characters, so Michelle Diener is an auto-buy for me.  Intelligent, artistic, well-written and intriguing, the story will keep you turning the page and you're going to thank me for recommending In Defense of the Queen.