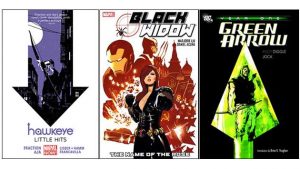 By Joseph Heflich for Bookish
With Mark Millar's "Kick-Ass 2" roundhouse kicking its way into theaters this week, it's natural to start daydreaming about your would-be career as a crime fighter. You'll need the right origin story, a functional but stylish costume and, of course, a nickname that will evoke both fear and respect from your foes. But can you really call yourself a superhero if you aren't a superhuman? To better understand what really separates civilians from caped crusaders, we showcase six comic book characters who don't need special powers to be superheroes.
1. Black Widow
Black Widow (Natasha Romanoff)
How does an ex-KGB assassin end up in charge of both S.H.I.E.L.D. and the Avengers? If you're the infamous Black Widow, the answer is almost certainly confidence. Ms. Romanoff wouldn't be the most dangerous woman in the world if she weren't able to stay cool under pressure. Nat's determination and courage allows her to do what others can't–even if that means looking like an enemy of the state or giving all of the credit for her triumphs to Iron Man Tony Stark.
The Punisher (Frank Castle)
No one holds a grudge quite like the Punisher: His vigilante career began because of a bad tour in Vietnam and an ill-fated picnic in Central Park, but that's not all it takes to keep someone going for almost four decades. No, Frank Castle's motivation comes from something deeply ingrained in him, something that won't allow him to let go of his perpetual guilt and anger. Somehow, Frank will always find a way to continue his war. He just can't stop being a survivor–which also means he won't stop being a superhero.
Green Arrow (Oliver Queen)
Oliver Queen got thrown off a yacht. Sure, this spoiled rich-kid-turned-socially-conscious-superhero has an it-could-happen-to-anyone origin story, but that doesn't make him any less noble. If anything, the Emerald Archer has proven that compassion and discipline is enough to turn a playboy into a progressive advocate for ordinary folks. And when you spend a lot of your time in a space station surrounded by aliens and metahumans, that's a pretty amazing thing, indeed
4. Kick-Ass 2
Hit-Girl (Mindy McCready)
There aren't many 10-year-olds who can hold their own against the New York mafia… that's why there's only one Mindy McCready. Raised by Big Daddy with a comic book in one hand and a katana in the other, this pint-sized killing machine was made to fight crime. She's never been concerned with morality, justice or anything else that gets in the way of putting down another bad guy. For Hit-Girl, it's all about pulling on that costume, offing some creeps and making her own superhero fantasy come true.
Hawkeye (Clint Barton)
Clint Barton knows what it's like to have a rough start: He grew up in an abusive environment, failed to make it in the circus and got tricked into being a supervillain. And that was all before he became the least durable member of the Avengers. The "Hawkguy's" complete inability to be deterred by his bad luck might be his best quality, if it weren't for his amazing archery skills. Bows, arrows and broken bones aside, Clint's dedication to the superhero life shows that, powers or not, what matters most is putting on a brave face and standing your ground.
6. Birds of Prey: Between Dark & Dawn
Oracle (Barbara Gordon)
After getting shot through the spine by the Joker in Alan Moore's"The Killing Joke," Barbara Gordon remade herself as Oracle, an information broker with all the answers. When she wasn't traveling the world or redesigning the Internet, she spent her time mentoring Cassandra Cain, Stephanie Brown and Wendy Harris, in addition to founding the Birds of Prey with Black Canary. As the self-made intellect and conscience of the Bat family, Babs consistently raised the bar and inspired everyone around her to be better, even the Dark Knight himself. By accomplishing more in a wheelchair as Oracle than she ever did wearing tights, the former Batgirl reminds us all that there's more to being a hero than physically dominating her foes.
Reprinted with permission from Bookish.com 
Additional links from Bookish: