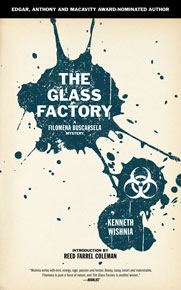 In July, award-winning author Kenneth Wishnia's video on "Moral Pollution" went viral. In response to this, Wishnia  and his team joined forces with Circle of Seven Productions to create a book trailer that would visually represent the tone and plot of THE GLASS FACTORY (PM Press; August 2013; Trade PB:  $16.99; E-book $9.99). Images of the tough-talking, street-smart Latina heroine hit readers' monitors in this highly-anticipated video production.
Kenneth Wishnia does not disappoint in the third installment of the Filomena Buscarsela mystery series aimed to make readers stop and think—and the video, released today in honor of this book, shatters viewers' expectations. "Readers respond to the sassiness of Filomena coupled with her eagerness to make things right in the world," says Wishnia. "I feel that Circle of Seven has accurately portrayed the causes that Filomena struggles with in THE GLASS FACTORY."
THE GLASS FACTORY is a fictional representation of the themes that Wishnia has become so popular for creating a dialogue about online, in bookstores, and in the media. Wishnia is often the central figure in bringing together both fiction and non-fiction authors nationwide to support various arguments.
"I hope that the latest video will get people thinking… and maybe even reading," adds Wishnia. And perhaps later… advocating.
ABOUT KENNETH WISHNIA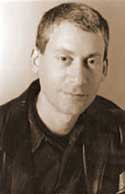 Kenneth Wishnia's novels have been nominated for the Edgar Allan Poe Award, the Anthony and Macavity Awards, and made "Best of the Year" lists at the Washington Post, Booklist, Library Journal, and The Jewish Press. His novel The Fifth Servant was an Indie Notable selection, a Best Jewish Book of the Year (Association of Jewish Libraries), winner of a Premio Letterario ADEI-WIZO, and a finalist for the Sue Feder Memorial Historical Mystery Award.
He teaches writing, literature and other deviant forms of thought at Suffolk Community College in Brentwood, Long Island, where he is a professor of English.
Links for Kenneth Wishnia:
Web: www.kennethwishnia.com
Facebook: https://www.facebook.com/AuthorKennethWishnia
Publisher: www.pmpress.org