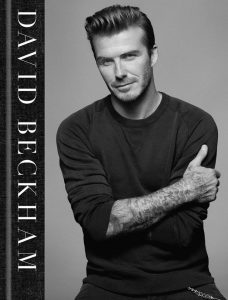 David Beckham, world renowned soccer player has penned another book, only this time he has found a unique way to autograph it for thousands of fans. His latest novel, simply titled, David Beckham is mostly a work in photographs. With images of his career through to his retirement and ending with a sentimental photo of him with his sons, the book is a tribute to the sport.
The most unique aspect of Beckham's latest book release is the way he intends to sign it for fans. He will be working in a collaboration with Facebook, it will be a global signing streamed from London across the globe. On October 30, fans will be able to ask questions and get immediate responses from Beckham.
In a statement from Beckham: "In partnership with Facebook, I want to do a truly global signing to coincide with the launch of my new book. If you are in London, New York, Sao Paulo, or Hyderabad, you can enter to win a ticket to take part in these events and receive a personalized digital signature from me via ground-breaking technology."
While digital autographs have been around for some time via Authorgraph, this will be the first time an author has used Facebook to create a global booksigning. Fans must register for the event and they must be in one of the key cities (London, New York, Sao Paulo, or Hyderabad) to participate.
Fans who are interested can find details on Beckham's Facebook site: https://www.facebook.com/Beckham. The event will be streamed live across Facebook on October 30 @ 3:00 P.M. GMT.