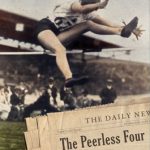 It's 1928 and women are allowed to participate in the Olympics in track on a "trial basis" so the whole world is watching and the pressure is unrelenting.  Four women, amazing athletes, follow a dream that can carve a path from history to the future. And author Victoria Patterson tells it in a gripping, character-driven tale that is hard to put down and hard to forget.
The Peerless Four is a true story that follows four women from the time they knew they wanted to be athletes to the end of their journey through the Olympics and home again to watch the future of women in sports through the years, living their lives like unsung heroes, but really just people wanting to be happy and finding life sometimes gives you that and sometimes doesn't.
The story is written so that you feel what they must have felt, so that you have an inside look at who they were before and after they were Olympians.   You have a sense of history and where women were in it, but mostly the story is about being human and fighting the odds and living your dream while life keeps moving on around you.
I'm not much of a sports person, to be honest.  I was asked to read this book in order to interview the author for a project. I didn't expect to become so involved in the story, but the characters pull you in and the story keeps you there and you have to know how it played out and how they ended up.  It's compelling whether you love sports, history, women's issues or the Olympics, because at the root of the book we are invested in the lives of characters who matter to us, and in the end that's what makes this an amazing book.