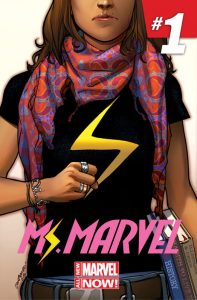 This February Marvel Comics is unveiling a brand new superhero – Kamala Khan a Muslim-American. Kamala is "a teen girl in New Jersey who discovers she has the ability the change shapes." Kamala's super-hero name will be Ms. Marvel.
The character was created by Marvel editor Sana Amanat, who is a Muslim-american. "I do expect some negativity, not only from people who are anti-Muslim, but people who are Muslim and might want the character portrayed in a particular light." Amanat said in an interview.
Ms. Marvel will touch on the issues faced fighting crime as well as issues at home that are particular to her Pakistani family, and general teenage girl issues of boys, college plans and friends. Marvel Comics has brought G. Willow Wilson, an American woman who converted to Islam, as the lead writer for the series, and it will be illustrated by Adrian Alphona.