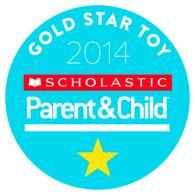 Each year, Scholastic prints their list of "Gold Star Toy Awards", giving their recommendation for the best toys of the year. For 2014, Scholastic Magazine readers will be able to scan a toy with their smart phone or tablet and make an immediate purchase.
Jamie Engel, Vice President and Publisher of Scholastic Parent & Child said in a press release, "This holiday season, we are offering parents the best gift guide with an easy shopping experience right off the pages of our magazine. Working together with our experienced editors and engaged parent readers, we created a trusted guide of toys that parents can feel good about giving this holiday."
Readers can download a free app, scan a toy that appears in the magazine and make their purchase. The app was created in conjunction with ShopAdvisor and Digimarc.
Here's more from their press release:
In this shoppable issue, parents can use their smart phone or mobile device to buy any of the award-winning toys thanks to ShopAdvisor and Digimarc Corporation's platform for mobile engagement. The Digimarc® Discover mobile app and ShopAdvisor shopping experience let readers find out more about products featured in the magazine and buy them directly. By simply scanning a digitally watermarked photo in the print edition, tapping a button on the Parent & Child app on their tablet, or clicking a button on the Gold Star Toy Award online site, readers can learn more about the products mentioned within the magazine – price and price history, availability at online and local retailers, and full product description – and click through to purchase.