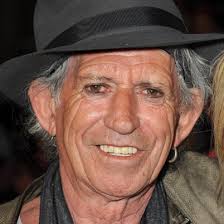 It may be hard to believe, but iconic Rolling Stone's rocker, Keith Richards has just become a grandfather for the fifth time, and this September he will be releasing a children's book. Little, Brown Books for Young Readers is publishing, "Gus & Me: The Story of My Granddad and My First Guitar." 
The story will focus on Richard's own grandfather, Theodore Augustus (Gus) Dupree, and how his own musical past in a big band influenced Richards. Plus, the rockers daughter, Theodora, who is named after her grandfather, will be illustrating the book, making it a true family project.
In an interview with Bookseller, Richards said his grandfather Gus, "showed me the first licks and chords, the major chord shapes, D and G and E. He said 'Play Malagueña, you can play anything.' By the time he said, 'I think you're getting the hang of it,' I was pretty happy."
Megan Tingley of Little, Brown said: "'Gus & Me' invites readers to be in the room at the electrifying moment that Keith holds a guitar in his hands for the first time."
Included with the book will be a CD and family photos.