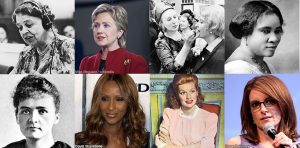 Actress Cate Blanchett brought in Women's History Month with a bang at the Oscars when, during heracceptance speech for the Best Actress Award (she won for Blue Jasmine), she took a swipe at sexism in Hollywood: "[To] those of us in the industry still foolishly clinging to the idea that 'female films' with women at the center are niche experiences: they are not," she told the crowd of stars and industry professionals. "Audiences want to see them and, in fact, they earn money. The world is round, people!"
Blanchett's comments drew praise inside the Dolby Theater and out, striking a nerve at a time when what we might simplistically call "women's issues"—everything from reproductive rights and equality in the workplace to the politics of Miley Cyrus' risqué performances—sit front and center in the national imagination. In recent years, female leaders including Sheryl Sandberg, Hillary Clinton, and Wendy Davis, among many others, have helped to spark national discussions about gender equality in politics, business, entertainment, and the home.
As contemporary as these women and their achievements may seem, the phenomenon of females crossing boundaries and smashing glass ceilings is hardly new. Here, we take a look at some of history's biggest female trailblazers, matching them with their modern-day counterparts, and recommending books that give the full stories about these inspiring ladies. Even though Women's History Month is over, we suggest you adopt these ladies as your role models for the entire year.

Eleanor Roosevelt Blanche Wiesen Cook
As the longest-serving First Lady of the United States, Eleanor Roosevelt made an indelible impact on the nation—particularly through her social work and civil rights advocacy—and proved that the FLOTUS office could be a position of influence. Her campaigns against racism and anti-Japanese sentiment, her active support of troops during World War II, and her ubiquitous presence in the media all earned her the nickname (bestowed by Harry S. Truman) "First Lady of the World." Blanche Wiesen Cook's two-volume biography of Roosevelt focuses on her upbringing and early life, the formation of her ideals, and her intimate involvement in the political narrative of her time.
Modern-day equivalent: Hillary Rodham Clinton
Hillary Clinton followed in Roosevelt's footsteps by parlaying her position as First Lady of the United States into a full-blown political career, first as New York State Senator, and then as Secretary of State. Now, with rumors of 2016 presidential run swirling, a new biography by Jonathan Allen and Amie Parnes, HRC, evaluates Clinton's "political rebirth."
Madame Curie Eve Curie
Physicist, chemist, and radioactivity research pioneer Marie Curie was the first woman to win a Nobel Prize and the only woman to win one in two separate fields. Her youngest daughter Eve Curie's classic biography chronicles her upbringing in Poland, her romance with and marriage to Pierre Curie, and her unlikely rise to scientific fame.
Modern-Day Equivalent: Rachel Carson
Born 40 years later, Rachel Carson made her name as a marine biologist and conservationist, penning the classic science book Silent Spring, which examined the deleterious effects of pesticides on the environment. Today, she is credited with spearheading the environmental movement. Dr. Robert K. Musil's new book, Rachel Carson and Her Sisters, looks at Carson's life and activism in the context of the network of many other women who helped to found and shape the global effort to preserve the environment.
America's Obsessives Joshua Kendall
Estée Lauder
When we think of Estée Lauder, we think delicate, pleasantly-scented cosmetics and body care products. But behind the glamorous brand is a story of one woman's hard work and genius business instincts. Born in 1906, Lauder is credited with inventing the "gift with purchase" sales tactic and is known to have remained heavily involved in day-to-day business operations, even as her company grew to claim 45% of the cosmetics market. Joshua Kendall's America's Obsessives examines how Lauder's passion for selling fueled her success.
Modern-Day Equivalent: Sheryl Sandberg
Sandberg may have found success in a drastically different industry than Lauder—she was formerly an executive at Google and is now the COO of Facebook—but her sharp business acumen and willingness to take charge in the male-dominated corporate world merits comparison to the cosmetics maven. In fact, Sandberg wrote the book on women breaking the glass ceiling in business. It's called Lean In. Ever heard of it?
On Her Own GroundA'Lelia Bundles
Born Sarah Breedlove, Madame C. J. Walker is regarded as the first female self-made millionaire in the U.S. with her beauty and hair product line for black women. A'Lelia Bundles' biography On Her Own Ground documents Walker's childhood and adolescence—born into slavery, married at 14, widowed at 20—and her transformation into a businesswoman and philanthropist.
Modern-day equivalent: Iman
In the 1990s, after almost two decades as a supermodel, Iman carried her clout over into a line of cosmetics. Iman Cosmetics addresses skin colors all across the spectrum, based on Iman's own years of creating her own custom palettes for makeup artists to use on shoots. Her inclusiveness and business savvy draw inspiring parallels to Walker and her legacy.
Susan B. Anthony and the suffragettes
Women's rights activist Susan B. Anthony played a central in the women's suffrage movement of the nineteenth and early twentieth centuries. Along with Elizabeth Cady Stanton, she helped to form a number of coalitions, including the American Equal Rights Association and the National Woman Suffrage Association (NWSA), and staged events in an effort to gain support for the right of women of vote. Her shows of defiance eventually got her and several others arrested, leading to a famous court case, United States vs. Susan B. Anthony, that cast a public spotlight on the suffrage movement. Jean H. Baker's Sisters: The Lives of America's Suffragists examines the heroism of Anthony, Stanton, and others.
Modern-Day Equivalent: Pussy Riot
In 2012, several members of Pussy Riot, a feminist punk rock group based in Russia, were arrested on charges of "hooliganism." More likely, their music—which promotes the rights of women and LBGT and criticizes Putin—did not sit well with the Russian government. Their case received national attention and raised awareness of Russia's social backwardness and censorship. Like the American suffragettes before them, the members of Pussy Riot jeopardized their own liberty to expose a larger crisis of liberty in their nation. Journalist Masha Gessen's book Words Will Break Cement tells the story of the arrests and gives background on the band members and political and cultural ethos in which they work.
Lost Kingdom Julia Flynn Siler
Liliuokalani
The only queen regnant, and the last monarch, of the Kingdom of Hawaii, Liliuokalani believed in listening to the people of her country and began her reign by drafting a new constitution to give voting rights to native Hawaiians and Asians. As the 'Sugar Kings,' the nearly all-white plantation owners, began taking over the land, the US, Britain, and France closed in—seeking to expand their influence in the Pacific. Though the U.S. invasion and overthrow of her government put an end to Liliuokalani's constitution, she's remembered as a queen who stuck by her guns and her people in the face of imperialism.
Modern-day equivalent: Ellen Johnson Sirleaf
In the midst of civil war, Ellen Johnson Sirleaf was sworn in as the first female president of Liberia and the first elected female head of state in all of Africa. Dubbed Africa's "Iron Lady," Sirleaf fought tirelessly for democracy and social justice in her conflicted nation. In 2011, she was awarded the Nobel Peace Prize for her peaceful, yet unrelenting, struggle to ensure women's rights and safety in her country.
Then and now, we revere I Love Lucy for its forward-thinking style, especially as a 1950s sitcom—primarily thanks to its focus on funny female characters made it unique. Though male supporting characters play a big part in the series, the show's rich comedy was powered mainly by the antics of friends and co-conspirators Lucy and Ethel. Today, Ball remains a symbol not only of women in comedy, but of the potential of women-centric entertainment.
Modern-Day Equivalent: Tina Fey
SNL and 30 Rock star Tina Fey's style of comedy is dramatically different from Ball's, but, like Ball, Fey has built up a strong presence in the world of TV and comedy and has proven women-centric entertainment can succeed with audiences. Her book Bossypants offers a window into her early career in comedy and the strange but rewarding life of a TV actress and writer.
Related Articles & Lists
Article: How to #ReadWomen2014 in Genres Other Than Literary Fiction
Article: Silent Reading Party: Reading Allowed, Not Aloud
Article: Dream Casting Paper Towns' Manic Pixie Dream Girl Margo Roth Spiegelman
Reprinted with permission from Bookish.com