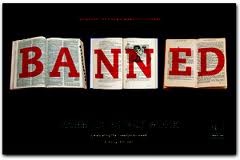 The American Library Association in their "State of America's Libraries" report has released their list of the top banned and censored books in the United States. The challenges are complied from the information supplied by librarians, teachers, press reports, book stores and individuals.
The ALA and their Office for Intellectual Freedom receives hundreds of reports annually on attempts to "remove or restrict materials from school curricula and library bookshelves."
Here are the top ten challenged books of 2013:
1. "Captain Underpants" (series), by Dav Pilkey
2. "The Bluest Eye," by Toni Morrison
3. "The Absolutely True Diary of a Part-Time Indian," by Sherman Alexie
4. "Fifty Shades of Grey," by E.L. James
5. "The Hunger Games," by Suzanne Collins
6. "A Bad Boy Can Be Good for A Girl," by Tanya Lee Stone
7. "Looking for Alaska," by John Green
8. "The Perks of Being a Wallflower," by Stephen Chbosky
9. "Bless Me Ultima," by Rudolfo Anaya
10. "Bone" (series), by Jeff Smith.