The 3rd Annual Barbara Vey Reader Luncheon was the biggest so far with 500 readers and authors doing what they love best, talking books and eating.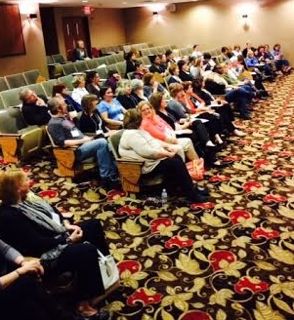 Friday night kicked off the event with a Q&A session that had authors on stage answering random questions sent in via Facebook and Twitter.  It was all in good fun as authors let a little of their personal side show and the readers ate it up.
Some highlights:
Damon Suede was asked who should play his heroes in the movie version of his book.  "Young Cary Grant and an extremely large wrestler who can pull a caboose."
Debbie Macomber on her craziest fan letter, " A man in prison wrote, 'You can be my woman…I don't even care that you're fat.'"
Eileen Dreyer was asked if she had any projects "under her bed."  "I took them all out and burned them so no one would find them when I died."
Jason Mott on getting ideas from dreams, "Yes." But the follow up exchange was hilarious when I told the audience that he wrote the book, The Returned, that is the basis for the tv show, Resurrection.  I announced that he was a luncheon virgin to which he responded, "And single."
I wish I would have had this event videotaped for you.