Caught in an inter-dimensional battle for Earth, a young dragon priestess leaves her life, loves, and magic; to restore the original plan for Earth and save those she has never met. The key to her success is to save a dying horse that once belonged to a wizard and learn his secret of dragonhorse. Learn more about this book series here, http://bit.ly/1ezZUpI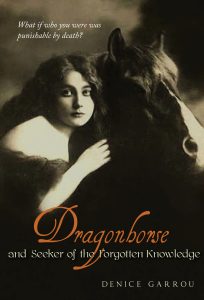 About the Author:
Denice Garrou is a Visionary Fiction writer with fantasy and magical realism as sub-genres. She is inspired by nature and her interactions with horses. The horse has kept her sane in an insane world and she writes to enlighten and expand awareness to her readers of all possibilites of life and in hopes of making a small difference in the world. She calls her saga a celtic/gypsy fairytale because of the ties to gypsy and celtic folklore and magic. Einstein said, "If you want your children to be smart read them fairytales, if you want them to be smarter read them more fairytales.
A beloved character of her book, a gypsy woman said, "Never rush the journey of life for the journey is the best part." Denice lives by this and is enjoying the connection with her readers ages 14 and up, especially women over 50.
Denice lives in the Rocky Mountains of west central Colorado, where she enjoys white water rafting, hiking, and riding her horses in the outback.
Book 2 "Sumayah" of her Dragonhorse Saga will be out late June of 2014, and book 3 "Talion" will be available summer of 2015. Book one of her saga has been to Asia and Italy.
The younger crowd is calling Dragonhorse, Harry Potter with Horses.