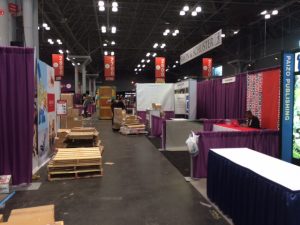 Today though, was the official grand opening of the exhibit hall and literally thousands of people showed up on this first day to see the grand displays, get free books, meet authors, have industry meets and attend workshops and panels.
If you've never attended the Book Expo event, but you're considering it, we recommend taking the time to learn the floor plan, download the mobile app and have a game plan so that you maximize your time and experience.  Leave lots of time for standing in line if you plan on seeing any of the big name authors.  The line for Neil Patrick Harris wrapped around a large portion of the exhibit hall and if you didn't make it to the front of the line within the hour you would not be getting your book signed.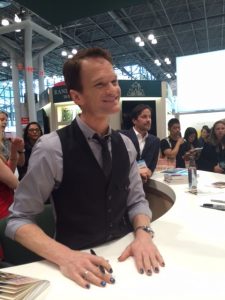 In addition to publishers and authors, many industry and other types of companies attend the event.  Agents, publicists, author organizations, distributors, booksellers and stores selling book-related products are all here to show their highlighted products, network and make sales.
The workshops and panels are well attended and this year highlight topics such as metadata importance and promoting abroad and translations.
The lines can be long, but are well worth it when you're a fan of the author.  The free giveaways are aplenty so if you attend be sure to get one of the many free tote bags being given away this year.
This is the crown jewels of industry events and one well worth attending for education, networking and lots of free books!