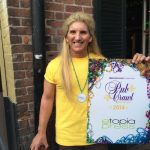 Think you missed it? Think again! RT Magazine leveraged the power of live streaming so those who couldn't make it to the 2014 New Orleans event could still celebrate!
You can still catch the live footage, now a podcast, and get the feel for what a pub crawl is like as you follow along through Bourbon Street in the French Quarter.
The day starts with a map and some friends walking along Bourbon street which is close enough to the hotel that you can walk.  Of course walking TO a Pub Crawl is much easier than walking back, especially if you actually stop at each pub and participate in the theme, and drink, of the day!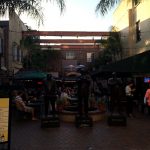 There was laughter, drinking, friends and beads on both sides of the street.  Publishers sponsored a pub and you'd get in line, get a token for more prizes later and then get a drink!  Each publisher sponsored a different type of drink in a well known and popular pub on the infamous Bourbon Street.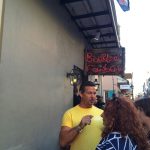 CLICK ON EACH PHOTO TO SEE SOME OF THE FOOTAGE SHOT LIVE DURING THE EVENT!