Sick of deeply personal accounts written in the first person? Seeking an exciting, interactive read that puts the "u" back in "aUtobiography"? Then look no further than Neil Patrick Harris: Choose Your Own Autobiography! In this revolutionary, Joycean experiment in light celebrity narrative, actor/personality/carbon-based-life-form Neil Patrick Harris lets you, the reader, live his life.
NEIL PATRICK HARRIS
CHOOSE YOUR OWN AUTOBIOGRAPHY
www.nphbook.com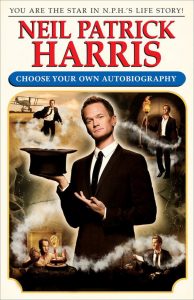 About the author:
Neil Patrick Harris (born June 15, 1973) is an American actor, producer, singer and director. Harris was named as one of Time magazine's 100 most influential people in 2010, and was awarded a star on the Hollywood Walk of Fame in September 2011. He has also hosted the Tony Awards on Broadway in 2009, 2011, 2012, and 2013, for which he won several special class Emmy Awards. In 2014, he starred as the title role of Hedwig and the Angry Inch on Broadway, for which he won the 2014 Tony Award for Best Actor in a Musical
.