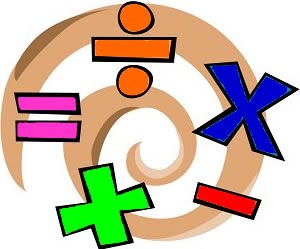 By: Laura Overdeck @Bookish.com
Math gets a bad rap and little girls in particular are rarely encouraged to pursue it. No one knows this better thanBedtime Math: The Truth Comes Out author Laura Overdeck. In this guest post, Overdeck shows us the cool jobs that involve a passion for calculation, from cooking to becoming the next Taylor Swift. So before you forget how to do integrals and throw your algebra sensibilities to the wind, read up on these exciting women whose careers involve mathematical know-how. You just might find something right up your alley.

Let's face it: Math sounds like something you leave behind in the classroom. Our culture doesn't mix math into playtime, the way we do with art, music, or even reading for pleasure. One look at Amazon's top-selling toys for kids, and you'll find the alphabet and music, but almost no math. Of the top-selling books for kids, most books about math are workbooks. Ugh! No wonder kids miss out on the beauty in numbers, and grow up thinking math is just a tedious school subject. Our culture doesn't signal that math is fun.
That's a big problem, because someday when those kids graduate from college and take jobs, they're going to need math skills. Our school leaders, politicians, and the press have drummed into us that we have a shortage of technically skilled adults, but that doesn't sound interesting to kids—particularly to girls, whom we unconsciously bias against math and science from an early age. The fact is, some really cool jobs use math behind the scenes—and the girl who knows some math will excel in the workplace over everyone else.
Follow in Rachael Ray's footsteps
Follow in Rachael Ray's footsteps

One thing everyone loves is food. Cooking is both art and science: You can't be a great cook unless you're also comfortable with math. When famous chefs like Ina Garten and Rachael Ray cook up magic, there are lots of numbers at play. They have to understand how the depth of batter in a pan or a thickness of meat will cook, and how high or low temperatures will create a totally different dish. Even before that, they have to mix the right amounts of ingredients. If you make 1 1/2 times a recipe that calls for 3/4 teaspoons of baking soda, you can't just guess how much baking soda you need and hope for the best. You'll end up with fluffy goop gushing out of your oven. Mixing ingredients to make magic means math. What girl doesn't want to wrangle with that challenge?
Be the next Taylor Swift

When Taylor Swift writes a song, she's working on both the lyrics and the beat, and has to make sure the pieces fit together. As she writes each line, the words, in fact the syllables, have to add up to fill the right amount of time. When instruments roll in, those phrases (which are often manipulated digitally) have to still fit the time signature. Beyond that, she has the whole business side to track. Taylor may not come out and say she does math for a living, but if she weren't comfortable with numbers deep down inside, she wouldn't be the superstar talent she is today.
Save the planet with Antonella Preti

Any girl who wants to save a species—bug-eyed owls, black bears, beautiful tropical birds—can make that her life mission by becoming a biologist and studying animal populations. Antonella Preti, an ocean biologist in La Jolla, CA, studies sharks to understand what animals they're eating, which shows how ocean currents and temperatures bring different critters to new areas. She combines that with other numbers, like each shark's weight and age, to find patterns. Biologists sometimes even count up how many animals are flooding an area, like the jackrabbits overrunning North Dakota and the manatees swarming around Florida right now. By tracking and analyzing those numbers, we can help our furry and fishy friends alike. 
Make some dough like Elizabeth Magie

Toy creators need math on the job, especially those who design board games. Monopoly, one of the most famous of all, was invented over one hundred years ago by Elizabeth Magie. Originally called "The Landlord's Game," she built a board outlined by pieces of property; each time you roll the dice and land on one, you pay rent to the owner or buy it yourself. Think of how much math this required. She had to decide how many turns it should take to go around the board, and how many rolls that would take, given that a pair of dice rolls anything between a 2 and a 12. She also had to set the rents and prices for all the properties, and the cost of buying a house or hotel; all of that had to balance with the prices to buy property. The game, which has 40 spots around the border with a railroad in the middle of each side, flows beautifully and really makes sense. That didn't happen by accident. She had to get the math right.
Be out of this world like Anita Sengupta

Toys are fun, but if one thinks big, there are countless opportunities for girls to use math in huge ways. Anita Sengupta, for example, is famous for landing things on Mars, as a project manager for NASA's Jet Propulsion Lab. She led the team that designed the parachute for NASA's Curiosity rover, so it could make a soft landing on Mars' red dirt and live to tell the tale. Never mind that Curiosity had to fly 60 million miles and not miss Mars—that took a ton of math and physics fancy footwork as is. It then had to blast through Mars' atmosphere without burning up, and unfold a parachute that would work no matter which way Curiosity happened to be facing. Anita and her team could never have achieved this without out-of-this-world math skills.
Or whatever else floats your boat

Girls don't have to take their engineering skills into space to find a place to use them. Right here on Earth there are countless jobs that tap our quant skills, beyond the chemists who invent medicines and the coders who build apps. Math is everywhere: any time you build things, mix things, and measure things, you're putting numbers to work, and that makes work as good as play for anyone.
REPRINTED WITH PERMISSION FROM BOOKISH.COM