Reader's Entertainment
FOR IMMEDIATE RELEASE
Young Adult Novel Mixes Science Fiction with Philosophy
Triumph of the Spirit sets new author apart
New York, New York
May 22, 2015
If John Green wrote science fiction adventure it might be something like David Pilarski's Triumph of the Spirit.  Young adult novels such as The Fault In Our Stars and Divergent continue to gain in popularity, not only with teens, but with adults as well.  The appeal of young adult heroes and heroines overcoming odds while learning their place in life has been an important staple of American literature.  Pilarski's Triumph of the Spirit gives readers an intelligent young hero willing to overcome his deepest fears and courageously explore the farthest reaches of human potential in order to fulfill his purpose to help the world before it's too late.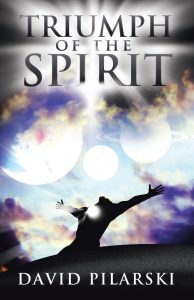 Triumph of the Spirit follows 18 year old Matthew through an adventure that starts when he sees something fall from the sky while working on his grandfather's farm.  He retrieves a strange metallic oval object and takes it home.  He immediately begins to experience a series of intense dream sequences where the line between dream and reality becomes blurred.  It is a novel of adventure, suspense, eternal connections and love as a Matthew traverses the great expanse of the Universe and the darkest recesses of his own spirit in order to fulfill his divine purpose.
The book sets itself apart by offering real-life lessons both practical and philosophical intended to inspire the reader to courageously face their fears, explore their true self and open up to infinite possibilities that could further enable their growth and realize their full potential.
Triumph of the Spirit can be found on Amazon, BN.com and other online bookstores.
David Pilarski is a graduate of the University of Notre Dame who has always been drawn to spiritual and motivational material.  He is a native of the Midwest where he presently resides.  You can find out more about David and Triumph of the Spirit at his website at www.DavidPilarski.com.
Contact:
David Pilarski