As the saying goes, knowledge is power, and nothing is more powerful than instilling a lifelong love of reading in a child at an early age. The benefits of reading range from pleasure to professional boosts, both financially and in career achievement.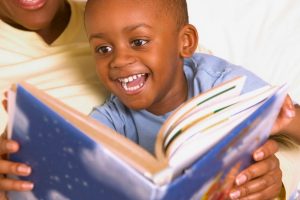 Being able to read is just downright healthy. Not only can the ability to read have a positive effect on a reader emotionally and mentally, when those aspects are going well, a reader feels pretty good physically. And yet, despite all the transformative and life enhancing aspects of being able to read, according to a study conducted by the U.S. Department of Education in 2014, more than 30 million American adults were illiterate. That translates to 14% of the country's population. Two years later, those figures haven't changed. So what can you do to help children onto the path of reading early?
Start Reading Early To Children. Very Early.
Your newborn daughter is too young for Moby Dick, you say? Not at all, and the latest Stephen King thriller won't do her much harm, either. Very early in life, babies enjoy being read to because of the sensations of being held and hearing voices, but this is a great way to introduce the concept of books and reading and language. From a few months of age until the end of the first year, books should largely feature big illustrations and bright colors. Between the first and second years, parents should select books with a sentence or two of text to accompany pictures on each page. Yes, parents will find reading favorites to toddlers (again and again and again) pretty boring, but experts say all this reading repetition helps small children both with memory and confidence building.
Let The Pros Help
Formal early education, like programs offered by Apple Montessori Schools, that employ phonetic and writing techniques can be very helpful. They also help children learn the advantages of acquiring and using reading skills in social environments. Make sure your child has a place where reading is something they enjoy and look forward to doing.
Books Make Great Rewards
Why only give toys as holiday or birthday gifts? Why not give a book and a toy for these events, and link them? You may turn that Star Wars action figure loving nephew into a lifelong devotee of classic science fiction.
In fact, why only give books as gifts when the toddler and pre-school years are the perfect time to learn how to explore local public libraries? Nothing makes a youngster feel more grown-up than putting books up on a desk to be checked out to them by a librarian. And in addition to helping parents teach the concepts of borrowing, sharing, and deadlines, most libraries offer story times and other book based events for children of all ages. These wonderful facilities should definitely be one of a parent's resources in helping a child acquire the many gifts of reading.
Reading with kids is fun and helps them develop important educational skills. Use these ideas to give them a head start in early learning and reading.