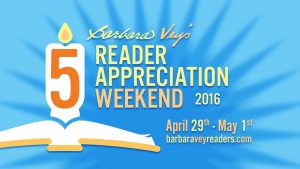 This was the 5th year for Barbara Vey's conference. In five years it has become "THE" reader event to attend. With 60 authors and nearly 500 readers, the conference sells out in just a couple of hours, leaving over 100 readers on a wait list. New this year was the Reader Bingo Party and with 250 attendees, I'd say it was a rousing success.
Friday night is a highly anticipated Q&A where readers who've submitted their questions get to put the authors on the 'hot seat'. The questions are drawn randomly, so the author has no idea what question they will be getting. Question ranged from "where do you get your ideas, and "who are your favorite authors" to "if you could be someone else for a day who would it be?" and "Tell us your favorite destination and who you'd share it with?" It gives quite an insight into readers favorite and new-to-them authors. This year 400 readers attended this event and it has without question become the favorite part of the conference.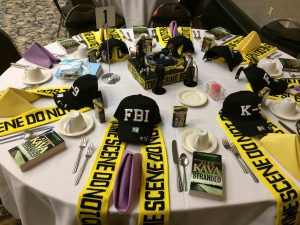 The event has garnered quite the reputation locally, and this year Barbara Vey was given a Proclamation by Mayor Erik Brooks of South Milwaukee. The local news station featured the event with interviews of authors Eloise James who was the event keynote speaker, Damon Suede, and Tiffany Snow.
Saturday morning 'Table Wars' were waged and every reader was a winner. Authors decorate their tables with goodies from books to jewelry and wine. With these authors creativity, you never know what might show up on a table. The decorations were amazing, the gifts thoughtful and brilliant and the 'Table Wars' were a hit with readers and authors alike.
A raffle was also part of the event. Authors donated gift baskets to raise money for Cynthia's Breast Cancer Giving Circle, Inc. and Author Brenda Novak's Diabetes Cure Charity. Tina DeSalvo even managed to snag a signed Brett Favre football for the raffle and it collected just over $12,500 for the charities.
Later that evening was a pizza party and games created by Damon Suede and Eloisa James. Author acted out book titles in an hysterical game of charades, and MadLibs made everyone break into snorting giggles.
At Sunday morning breakfast, authors hosted readers once again with table decorations, goodie bags, and books. This was the first year the conference held a Sunday breakfast and over 300 readers attended.
Next year's date has already been set: April 28, 2017. For information regarding tickets for the 2017 conference, you should "friend" Barbara Vey on Facebook.