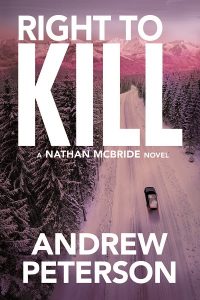 Tune in tonight Tuesday Nov. 15th when Debra Parmley chats with #1 Bestselling Author, Andrew Peterson about A Right to Kill, the sixth book in The Nathan McBride series featuring the "brutally effective" trained Marine Corps sniper and CIA operations officer, Nathan McBride. He and his former spotter own and operate a high-tech private security company. Listen in as Debra chats with Andrew about writing the series, shooting competitively, and taking chances.
Listen here Tue. night 8:30 eastern!
About Right to Kill:
When a team of commandos—highly skilled and armed to the teeth—tries to kidnap retired CIA station chief Linda Genneken from her home, trained Marine Nathan McBride and his partner, Harvey Fontana, arrive just in time to join the fight. But their well-honed CIA instincts tell them this is only the beginning.
McBride and Fontana set out to learn who ordered the midnight raid, and why. Is it connected to a rescue mission they conducted with Genneken in South America—a mission that nearly killed McBride? Is it related to the string of assassinations happening simultaneously in that area of the world? Or both?
With the help of their CIA contacts and aided by Genneken, the two men unravel a criminal plot with global implications. And as their race to find answers unspools in six supercharged hours, McBride and his team will be tested like never before.
About Andrew Peterson:
Andrew Peterson was born and raised in San Diego, California and graduated from the University of Oklahoma.  He has won multiple awards for excellence in marksmanship and holds the classification of Master in the NRA's High Power Riffle ranking system.
He began writing in 1990 publishing a short story in 1992 and his first novel, First to Kill, published in 2008.  His series grew in popularity soon after it was picked up by publisher Thomas & Mercer and First to Kill was optioned by Hollywood in 2010.
Andrew spends a great deal of time and effort on research for his novels.  He also volunteers to visit soldiers both at home and abroad visiting VA hospitals and giving away hundreds of books to soldiers.  He participated in the International Thriller Writer's 2011 USO Tour flying halfway across the world to thank and acknowledge service members abroad.
For more about Andrew Peterson visit http://http://www.andrewpeterson.com
and for more about Debra visit http://www.debraparmley.com
Book Lights – shining a light on good books!