Author Gary B. Shelly stopped by the studio today to talk about his debut novel DYING TO GIVE.  Gary's drama-filled, emotional story is one that touches the heart and challenges us to think about all the aspects of organ donation.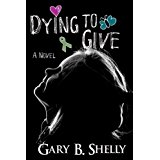 Gary talks talks about his research into organ donation and the fact that he is donating some of the proceeds of the sale of the book to Donate Life.  Listen to the podcast by clicking the book cover and find out more about this incredibly thoughtful novel DYING TO GIVE.
And find our more about Gary and what he'll be writing next.
For a chance to win a copy of the book please leave a comment or question below.
You can also follow Gary on Facebook!