Tune in Tuesday Jan. 10th  when Book Lights host Debra Parmley chats with Jocie McKade about tea leaf readings, Rogue Leaves and Yankee Tenacity. What mysteries are hidden in the tea leaves and what about Yankee Tenacity? Listen in Tue. January 10th 8:30 p.m. eastern to find out!
Listen here Tue. Jan 10th at 8:30 p.m. eastern!
About the Tassomancy Short Story Series:
Mystery in the Leaves Book One
In the first book, Mystery in the Leaves, Charley McGraw is an architect assigned to help Easton Demolition keep a turn of the century building from being damaged. What she didn't count on was Seth Easton, or someone who is targeting his company and threatening everyone around him.
Lilly serves up some advice and warnings with her Chamomile tea. While trying to figure out who is sabotaging the work site, Charley and Seth connect in ways neither one ever expected.
The Tassomancy Short Story series centers around Lilly Cunningham and her mobile tea truck the Aquarius Moon. Each quick read lets readers follow her as she lends her skills at reading tea leaves to those that need her most. Great for when a quick literary escape is all you need or have time for!
About Rogue Leaves:
Rogue Leaves – Book Two Tassomancy
New FBI Agent Natalie Hanlon has a dark past, and she's about to come face to face with it when her first assignment sends her back to Mobury Falls, her hometown.
Mason Gerard is the world's most elite and elusive cat burglar. Someone is impersonating him and not in a good way. A badly laid trail from the impostor leads him to Mobury Falls.
Tea leaf reader Lilly Rockingham always parks her mobile tea truck, the Aquarius Moon, exactly where it's needed. For the first time, her leaves will reveal symbols she's not ready to see.
An agent trying to prove herself against a criminal who may or may not be telling the truth and a tea leaf reader whose leaves have gone rogue.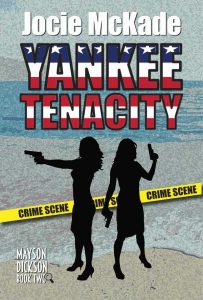 About Yankee Tenacity:
Following the latest cryptic message that might lead them to the truth about their parents, Emme Mayson and Jackie Dickson are pulled into another murder investigation when a man dressed in a kilt falls from the sky onto their truck.
As if a dead body isn't enough, FBI Special Agent Chris Meechum and sexy caretaker Sam Fender try to rein in their sleuthing, but the sisters are determined to solve this murder. Men in kilts, Renaissance Faires, and a few mobsters in all the wrong places complicate the case.
Emme Mayson is a Southern charmer from Alabama. Jackie Dickson is a straight-forward professional from Boston, they aren't exactly a match made in heaven. The only thing keeping them from starting another war between the states is the mystery surrounding their parents, and their own lives.
Mayson-Dickson – Northern logic, Southern charm, and murder!
Jocie McKade is an award winning, Amazon bestselling author of thirteen books. She writes romantic comedies, and humorous cozy mysteries, and has been accused of making readers laugh out loud at inappropriate moments.
Besides writing fun fiction, Jocie pens articles for national publications. The senior news editor for a reader's news blog, she is part of an award winning production team where she writes video scripts, press releases, and blog posts.
When not writing, she is plotting military maneuvers against hostile dust bunnies.
Join Jocie online at:
Be sure to sign up for Jocie's newsletter for info on upcoming releases, giveaways, and book news: http://www.jociemckade.com/contact–newsletter.html
Facebook Author Page – https://www.facebook.com/JocieMcKade7/
McKade's Mavericks FB Fan Page – https://www.facebook.com/groups/mckadesmavericks/
This page is just for fans.
Amazon Author Page – https://www.amazon.com/s/ref=dp_byline_sr_ebooks_1?ie=UTF8&text=Jocie+McKade&search-alias=digital-text&field-author=Jocie+McKade&sort=relevancerank
Twitter – https://twitter.com/JocieMcKade
Goodreads Author Page – http://www.goodreads.com/author/show/7348715.Jocie_McKade
Pinterest – https://www.pinterest.com/jociemckade9/
And for more about host Debra Parmley visit debraparmley.com
Book Lights – shining a light on good books!