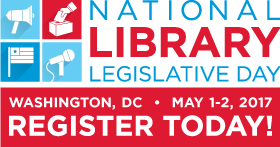 From the ALA Press Release:
More than five hundred library advocates from every state in the nation and the District of Columbia will gather in Washington, D.C. to advocate for federal support for libraries during the American Library Association's (ALA) 43rd annual National Library Legislative Day. Over a thousand supporters also registered to participate simultaneously through Virtual Library Legislative Day, where advocates connect with legislators via phone calls, emails and social media platforms.
With attendance for the event in Washington, D.C. the highest in more than a decade, Library Legislative Day comes on the heels of the President's proposed budget plan to eliminate the Institute of Museum and Library Services (IMLS) and more than $213 million in funding for America's libraries, most of which is provided to all 50 states to determine how best to deploy funds.
ALA President Julie Todaro said, "We are here to fight for libraries and for funding that makes libraries the vibrant, innovative places that they are. But make no mistake: fighting for libraries doesn't just mean we are fighting for money: we are fighting for our core values. Here in Washington, D.C. and in every single congressional district in the nation, library professionals and supporters are fighting to provide Americans with intellectual freedom, privacy and equal access to information."
Issue briefings, which will take place at the Liaison Hotel on Capitol Hill and be streamed live, will feature a keynote address by Hina Shamsi, Director of the National Security Project at the ACLU. A noted expert in international human rights and free speech, Hamsi will speak on current threats to privacy, the need for Congress to enact surveillance law reform and how public interest groups can work together to push for change. Following the briefings will be an interview on library engagement with local editorial boards featuring Washington Post writers Molly Roberts and Joe Davidson. Other sessions include interactive discussions on effective advocacy and messaging strategies for library leaders, as well as the ALA/Google initiative Libraries Ready to Code.
Dr. Julie Todaro will also present Lori Rivas with the 2017 White House Conference on Library and Information Services (WHCLIST) Award. Rivas, a library advocate from Santa Clarita, Cal., organized a campaign to oppose privatization of the management of her local public library. Her efforts garnered national attention and led her to become a library consultant for the Southern California Library Cooperative. The WHCLIST Award is given annually to a non-librarian attending National Library Legislative Day. The award covers hotel fees and provides a $300 stipend to help defray other costs of attending the event.
Following today's briefing will be a reception for advocates, lawmakers and congressional staff held in Hart Senate Office Building, where United for Libraries will present its Public Service Award. The annual award recognizes a legislator who has been especially supportive of libraries.
Tomorrow, May 2, participants from every state will be on Capitol Hill visiting every U.S. senator's and representative's offices to advocate for full federal library funding and on a broad range of other issues, including: network neutrality, broadband in every library, privacy/surveillance law reform and fairly-balanced copyright laws.