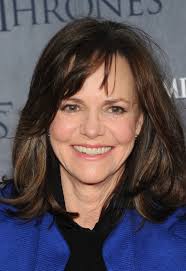 The Oscar winning actress too five years to write her upcoming memoir In Pieces. According to publisher Hachette' Grand Central, the book is Ms. Field's "first extensive discussion of her private life and childhood." It is the first time the usually private Fields has openly written about her life.
The actress describes the memoir as being "about the little girl that I was, about the teenager who backed into becoming a celebrity, and about the craft that taught me to stand on my feet, a craft that helped me find my way out of a complicated childhood."
Field won an Oscar for Places of the Heart and Norma Rae. She began her career in television as Gidget, and she recently won an Emmy for her role in Brothers and Sisters.
eBook, print, and audio editions will release simultaneously in the fall of 2018.