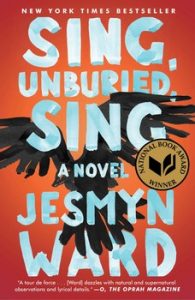 The PBS NewsHour and The New York Times have teamed up to host NOW READ THIS book club. Their goal is to " pick a book (monthly) that helps us makes sense of the world we're living in — fiction, history, memoir, and more."
Their first book pick is Sing, Unburied, Sing by Jesmyn Ward. NOW READ THIS also has a Facebook group, and readers are invited to join their monthly our newsletter. The book club will also be posting discussion questions and information related to the book and from the author.  The New York Times will also have reviews of the book in their paper.
Readers can submit questions to the author on the Facebook page and at month's end, those questions will be answered by the author on PBS NewsHour.
Local book clubs are invited to participate, online and to utilize the discussion questions offered with each month's book selection. Most books selected by NOW READ THIS will be available in paperback at all online retailers and via the local library.