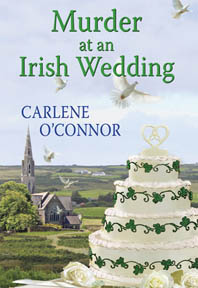 New Mysteries from Kensington books………….
MURDER AT AN IRISH WEDDING by Carlene O'Connor An Irish Village Mystery #2
Any wedding is a big deal in the small village of Kilbane, Ireland —even more so when the bride is a famous fashion model. Not only has customer traffic picked up at Naomi's Bistro, Siobhán O'Sullivan and her five siblings have a full plate catering for the three-day affair. And Siobhán's own beau, local garda Macdara Flannery, gladly steps in as best man after the groom's first choice makes a drunken arse out of himself. When the original best man is found murdered in the woods, casting a pall over the nuptials. And when a second member of the wedding party is poisoned by a champagne flute engraved with Macdara's name, the garda goes from being best man to prime suspect. Siobhán vows to clear Macdara's name and, as she gets closer to unveiling the truth, the murderer is planning a very chilly reception for her . . .
New Series DEATH BY CHOCOLATE CHERRY CHEESECAKE by Sarah Graves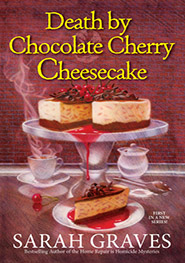 A Death by Chocolate Mystery #
Jake and Ellie have been through a lot together, from home repair to homicide investigation. So when they decide to open a chocolate-themed bakery, they figure it'll be a piece of cake. With Ellie's old family recipes luring in customers, they expect to make plenty of dough this Fourth of July weekend. Having family home for the holiday only sweetens the deal for Jake—until the ill wind of an early-season hurricane blows up her plans. When the storm hits, Jake's grown son Sam is stranded in a Boston bus station, and her husband Wade is stuck on a cargo ship. But as bitter as the storm is, something even more sinister is brewing in the kitchen of The Chocolate Moose—where health inspector Matt Muldoon is found murdered. With no alibi for the night of the murder, Ellie's in a sticky situation with the police—and it's up to Jake to catch the real. Includes Recipes!
BISCUITS AND SLASHED BROWNS by Maddie Day A Country Store Mystery #4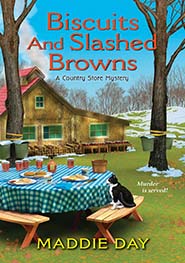 For country-store owner Robbie Jordan, the National Maple Syrup Festival is a sweet escape from late-winter in South Lick, Indiana—until murder saps the life out of the celebration . . . As Robbie arranges a breakfast-themed cook-off at Pans 'N Pancakes, visitors pour into Brown County for the annual maple extravaganza. Unfortunately, that includes Professor Connolly, a knowit-all academic from Boston who makes enemies everywhere he goes—and this time, bad manners prove deadly. Soon after clashing with several scientists at a maple tree panel, the professor is found dead outside a sugar shack, stabbed to death by a local restaurateur's knife. When an innocent woman gets dragged into the investigation and a biologist mysteriously disappears, Robbie drops her winning maple biscuits to search for answers. But can she help police crack the case before another victim is caught in a sticky situation with a killer? Includes Recipes for You to Try!
New Series MURDER WITH FRIED CHICKEN AND WAFFLES by A.L. Herbert A Mahalia Watkins Soul Food Mystery #1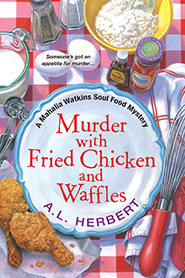 Halia Watkins has her hands full cooking, hosting, and keeping her boisterous young cousin, Wavonne, from getting too sassy with customers. Having fast-talking entrepreneur Marcus Rand turn up in her kitchen is annoying enough when he's alive—but finding his dead body face-down on her ceramic tile after hours is much worse. Marcus had his enemies, and the cast iron frying pan beside his corpse suggests that at last, his shady business deals went too far. Halia is desperate to keep Sweet Tea's name out of the sordid spotlight but her efforts only make Wavonne a prime suspect. Now Halia will have to serve up the real villain—before the killer returns for a second helping…