Since it's the last official RT Convention a lot of people have been reminiscing about their experiences at past RT's. We've been smiling, hugging, and laughing so hard we're almost crying at all the hilarious stories, unforgettable moments, good times, and fast friendships we've formed. Sure, it's all about the books, but it's also about so much more. I've heard quite a few people say that although they love all the free books and the chance to meet their favorite authors, they come back time and again for the fun connections and friendships they've made with so many readers, and authors alike. Friendships that get made through books. Listening to all the talk, I know that rings true for me too. There's nothing like the camaraderie formed by a mutual love for books. People want to share that love, share the pleasure they get from reading a good book, finding new stories to love, discovering new authors to follow, and escaping to other worlds. Like everyone else I'll miss the old RT, but I won't miss the Book Lover's Convention in New Orleans next year.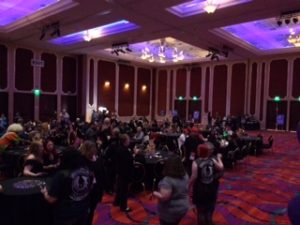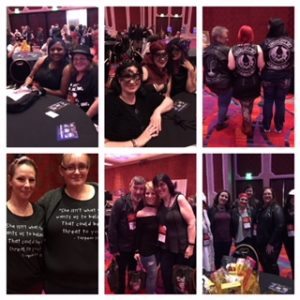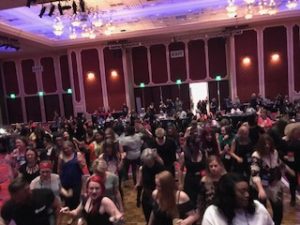 Like yesterday there were a lot of wonderful workshops today, and like always there were so many every hour that I wanted to attend, but since my cloning experiments have failed I'm forced to choose. I loved the action packed Cuff Me, Choke Me Master Class by writer and police officer, Rachel Rivers, and her spec ops husband, Keith Britt. And when I say action packed, I really mean, throw-em down, escape choke holds, correctly cuff them, guards, and ground work, realistic fighting action. Those two instructors were fabulous. Not only did they know their stuff, but they know how to teach it. Honestly, I would have loved twice the time, or even a whole day to learn from them.
Another excellent class was the Self-Pub/ Hybrid: 20 Ideas for Autopilot Book Marketing taught by Smashwords founder, Mark Coker. His Set-and-Forget tips were great. I know those tactics as well as the no-money marketing ideas from my final class of the day: Buzz your Book, by 1001 Dark Nights Liz Berry and Jillian Stein, would make a book truly discoverable and ratchet up those book sales.
After relaxing with longtime friends – and a couple new ones- I finished off the day with  Christine Feehan's Badass, Kickass Party. It was the perfect end to an incredible day. What a blast! Not only does that girl write intensely compelling kickass books, but she really knows how to throw a party!