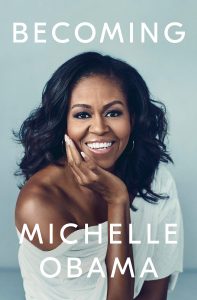 From Penguin Random House Press Release:
O, The Oprah Magazine and OWN announced this morning that it has chosen Michelle Obama's BECOMING its newest Oprah's Book Club selection. In making the announcement, Oprah Winfrey said, "This book is everything you wanted to know and so much you didn't even know you wanted to know. I believe it's going to spark within you the desire to think about your own becoming … It's so well-written I can hear her voice; I can hear her expressions; I can feel her emotion. What she allows us to see is how she was able to discover, define and then refine her voice."
BECOMING will be published in the United States and Canada on Tuesday, November 13 by Crown Publishing, and the book is being published globally by Penguin Random House in 31 languages.