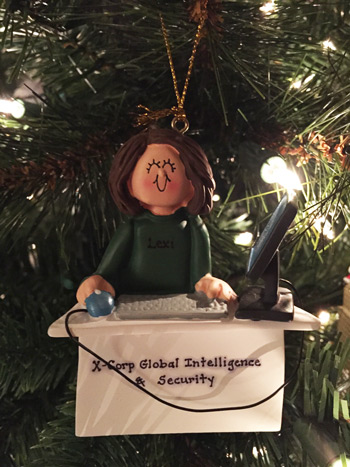 Today we welcome author JULIE MOFFETT! Let's peek inside her holiday office. . .
Happy Holidays! My name is Julie Moffett and I'm the author of the long-running, geeky Lexi Carmichael mystery series, as well as my new young adult spin-off spy/mystery series, White Knights. KNIGHT MOVES (Book #2 in my White Knights series) was released on November 28, 2018, and NO STONE UNTURNED (Book #11 in my Lexi Carmichael mystery series) will be out January 14, 2019. Both series feature geek girls who are kicking it as hackers and geniuses, saving the world one brain at a time! Geek Girls Rule!
I was asked to share a glimpse into my writing cave during the holidays, and I'm happy to share a few of my office traditions. I don't over-decorate my home office, although I love to heavily decorate the rest of the house. However, I do have a few special items I put up in my office to keep me festive and in-the-spirit while I'm writing. One of my favorite items is an ornament that was given to me by a fellow author of my featuring the heroine in my mystery series, Lexi Carmichael. Lexi is an ace hacker, so the ornament features a girl sitting behind a desk that says X-Corp Global Intelligence, which is the company where she works. One of her hands is on a mouse and the other is on the keyboard, while a monitor sits off to the side. I absolutely love it and it means even more to me since it was a present from one of my peers. Geek Girls Rule!
I also drape a Santa hat over one corner of my computer monitor and often light scented candles to get into the holiday spirit. Some of my favorite candles (and smells) of the season are Frasier Fir (it's like having a real tree in your office!), Twisted Peppermint (visions of candy canes), Sugar Cookie Candle (a personal favorite because nothing gets me in the mood of the season than cookies!!), Lemon Pound Cake (self-explanatory), Winter White Luxe Sanded Mercury (a blend of cypress and peppercorn), and Salted Caramel (a new favorite). Now that I look back over my list, I realize that a large majority of my candles have to do with the food of the season. Well, I guess we are who we are!
A must feature of my office during the Christmas holidays is the music, which I have on non-stop repeat. Ambiance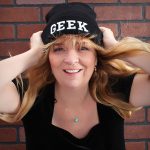 is critical, so I like to have a wide variety of songs from traditional, instrumental, rock, pop and seasonal. Several of my favorite seasonal albums are Kenny G.'s Miracles: The Holiday Album (1994), A Very Special Christmas mix to support Special Olympics (1987), Bing Crosby's White Christmas (1945), Elvis Presely's Christmas Album (1957), Mariah Carey's Merry Christmas (1994), Michael Bublé's Christmas (2011), Mannheim Steamroller's Christmas (1984), and Colbie Caillat Christmas in the Sand (2012). There are tons of other Christmas songs I like, so I often let Alexa, my virtual assistant, play a holiday soundtrack of her choosing.
So, this is what my home office looks, smells and sounds like during the holidays! I hope you enjoyed your mini-glimpse into my writing spot! I wish you, and all of your loved ones, a joyous, wonderful and magical holiday season!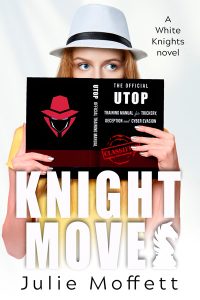 And a little peek at Julie's latest release. . . 
KNIGHTS MOVES (Book #2 in the White Knights series — a young adult spy/mystery/adventure)
Geek Girls Rule!
When U.S. intelligence agencies invite teen geek and ace hacker, Angel Sinclair, and her friends to try out for a highly competitive school for government operatives, will she wash out or step into a future she never expected?
My name is Angel Sinclair and I'm the youngest senior at a high school for technologically-gifted students. School bored me until my friends and I were unexpectedly tapped to try out for a top-secret spy academy. I'm not sure I have what it takes to be an operative for the U.S. government, but my friends and I are going to give it our best shot.
But first I have to go up against uber-skilled candidates who can do a thousand push-ups, kill a person with a fingernail file, and make handcuffs out of paper clips. My only defining skills are my mad hacking abilities and extreme awkwardness. I don't know what kind of spy that would make me, but I'm not going down without a fight.
With my loyal friends by my side, we're in a race to finish at the top of the class. Together we have the smarts…but we'll have to battle our insecurities and work together or miss out on an adventure of a lifetime.
Find out more about Julie and her books:
Instagram: https://www.instagram.com/julie_moffett/

Facebook: https://www.facebook.com/JulieMoffettAuthor/
Facebook Readers' Group: https://www.facebook.com/groups/vanessa88/
Twitter: https://twitter.com/JMoffettAuthor
Goodreads: https://www.goodreads.com/author/show/190485.Julie_Moffett
Book Trailer: https://www.youtube.com/watch?v=memhgojYeXM