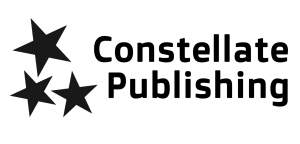 Constellate Publishing, A New Publishing Company Promoting Canadian Content
Editor Ellen Michelle, known for her work with speculative fiction and anthologies, recently launched a new publishing company, Constellate Publishing, that will celebrate and promote Canadian creators. The company launched with an e-zine project based on Patreon that offers monthly subscribers a new short story with illustrations every month. Additional rewards for subscribing include interview content, access to an exclusive feedback group, and short story editing from Ellen.
Constellate Publishing projects, including the e-zine, will only publish Canadian authors and artists. When asked why focus on Canadian content when it's a smaller market than the US, Ellen says "There's so much amazing talent in our country that it seems silly to go elsewhere to find content. I believe in supporting local businesses as much as possible, and that includes authors and artists."
Stories published by Constellate will be within the genres of speculative fiction, specifically science fiction, fantasy, crime, mystery, and horror, with a focus on cross-genre works and the bizarre, weird fiction that can't be put into a genre box. The e-zine features one story a month of 5,000–10,000 words with cover art and additional illustrations.
Along with her desire to support local businesses, Ellen believes in compensating her authors and artists fairly. Contributors to the e-zine receive a 30% royalty payment for the month their story is live (30% to the author, 30% to the artist, 30% to Constellate, and 10% for Patreon's fees). Ellen plans to grow the e-zine to two stories a month once it reaches a certain subscriber goal, but that growth will not happen until half of that royalty amount will still be a competitive rate for both authors and both artists.
About Ellen:
Ellen Michelle has been working in book publishing for three years as a freelance editor, managing editor for a small press, and book reviewer. She specializes all of her work in speculative fiction (primarily science fiction and fantasy, but also crime, mystery, and horror), and enjoys working with independent and first-time authors as well as curating anthologies. Ellen is a Master of Publishing candidate at Simon Fraser University, and recently launched her own publishing company: Constellate Publishing.
Information about Ellen Michelle is below: https://www.patreon.com/constellatepub ellen_michelle@outlook.com @ellen_mic on Twitter Ellen is available for interviews, media appearances, speaking engagements, and/or book review requests – please contact mickey.creativeedge@gmail.com by email or by phone at 403.464.6925.