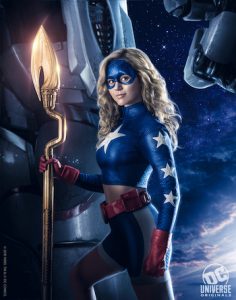 DC Universe's panel announced at WonderCon, then you just heard the biggest news about your favorite digital subscription service since it first launched in September of last year! But no worries if you couldn't make it to Anaheim today, because we've got the full scoop right here — including the offical word on our expanded digital comics library, your first look at the suit that will be worn by teen heroine Courtney Whitmore in our upcoming original series Stargirl, and lots more! Here's what was announced…
First: you spoke and we listened… Many of you have said you'd like more comics to read on DC Universe. So we're giving you more. Thousands more! At no extra charge or increase in the price of a subscription, DC Universe subscribers will be able to enjoy access to DC's enormous digital comics library, starting in April of 2019. (Each of these comics will appear at least 12 months after it was first published). That's over 20 thousand comic books!
Then, we revealed the premiere date of our next original live-action series — Swamp Thing. The James Wan-produced adaptation of DC's greatest horror hero will arrive on May 31st. Which gives you enough time to experience the comic book that inspired it — writer Alan Moore's run on Saga of the Swamp Thing!
Still not enough? Okay, below is your first look at Courtney Whitmore (as played by actress Brec Bassinger) in her patriotic super suit as she puts the star in DC Universe's Stargirl, premiering in early 2020. Fun fact: Stargirl's suit is designed by costume designer Laura Jean Shannon, who also designed the costumes for DC Universe's Titansand Doom Patrol, as well as Black Lightning…
We've also got a fistful of new premiere dates that should excite most every DC fan out there…  Season 1 of TV's Krypton will arrive on DC Universe on April 5th — next week! So you can watch it before season 2 debuts on Syfy this summer… Plus, the animated film Justice League vs. The Fatal Five will premiere on DC Universe on April 16th, the exact day and date on which the film will hit 4K Ultra HD, Blu-ray, and DVD. This much-anticipated movie will see the fan-favorite actors Kevin Conroy, Susan Eisenberg, and George Newbern reprise their roles as Batman, Wonder Woman, and Superman from Justice League Unlimited. And the second half of DC Universe's original Young Justice: Outsidersanimated series (comprised of 13 new episodes) will premiere on July 2, 2019. Last but not least, fans can expect season 2 of DC Universe's Titans to arrive in the fall of 2019, with our animated original Harley Quinn series following it in late fall.