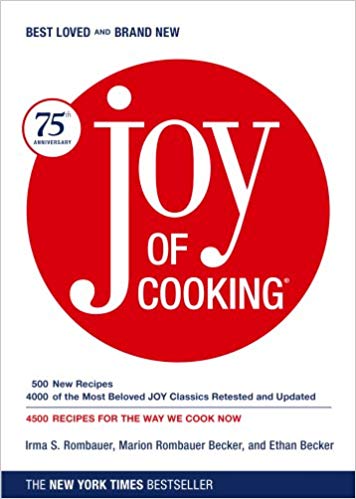 A new edition of Irma S. Rombauer's Joy of Cooking, America's most popular and trusted cookbook, will be published by Scribner on November 12. Updated and rewritten by Irma Rombauer's great-grandson John Becker and his wife, Megan Scott, this is the first revision since the 2006 bestselling 75th anniversary edition and is the first edition of Joy of Cooking to also be made available as an eBook.
First published in 1931, the classic and authoritative Joy of Cooking has been in print for nearly ninety years. This new edition honors Joy's extraordinary history, while updating all the recipes and essential information for today's audience. John Becker and Megan Scott have devoted the past nine years to this revision, developing new recipes, testing thousands of recipes from previous editions, and thoroughly researching and updating all the information within Joy's pages. The result: a new edition where every chapter has been thoughtfully revised to address the needs of today's home cooks, with over 600 new dishes and thousands of tried-and-true favorites. The 2019 edition of Joy of Cooking brims with food history and science, making Joy of Cooking a rich reading as well as culinary experience.
Joy of Cooking includes an unparalleled depth and breadth of recipes that span every dining occasion and season. Readers will find many new international, vegan, vegetarian, and gluten-free recipes, suggestions for cooking ahead, and tips for streamlining meal preparation. This edition also marks the first appearance of several American classics in Joy's pages, such as buckeyes, gooey butter cake, Cajun dirty rice, hot-smoked salmon, babka, Chicago-style deep-dish pizza, and Utica greens. These recipes are joined by contemporary dishes: kale salad, kimchi mac and cheese, and roasted cauliflower with green olives and lemon, as well as an expanded selection of international fare, ranging from appetizers such as Thai-style wings, to main courses such as gobi Manchurian, Guyanese pepperpot, miso ramen, and lamb shawarma. For the more ambitious cook, Joy now includes an entire section on fermenting, instructions for curing egg yolks and bacon, as well as countless opportunities for readers to dive into revised and expanded chapters on canning, cooking methods, techniques, and ingredients. Readers can end their day with a sip of home-brewed kombucha, or for the more free-spirited, a jungle bird or Irma's Prohibition-era formula for "gin and juice" from the expanded cocktail chapter.
"Our strategy for revising this edition was the same Irma and Marion employed for the first six editions of Joy: vet, research, and improve our coverage of legacy recipes and culinary subjects, while introducing new dishes, modern cooking techniques, and comprehensive information on newly-available ingredients our readers may encounter at farmers' markets and grocery stores," said John Becker. "While writing this edition, we have kept the needs of the home cook foremost in our minds. The result is both a solid collection of delicious, thoroughly-tested recipes and an indispensable kitchen reference that will give curious novices the answers they need and provide a useful refresher for seasoned cooks."
"Joy of Cooking is a national treasure, one of our company's most cherished and enduring books, and a widely recognized and highly valued brand," said Carolyn Reidy, President and Chief Executive Officer of Simon & Schuster, Inc. "We are thrilled to introduce this new, vibrant edition to the many generations of Joy fans and to new cooks seeking its incomparable culinary wisdom for the first time."
"The new Joy family stewards John Becker and Megan Scott have performed a remarkable feat, immersing themselves in the nearly ninety-year history of America's favorite cookbook," said Roz Lippel, Vice President and Associate Publisher of Scribner. "Their unique culinary journey has produced a fresh edition of Joy of Cooking, reflective of the rich and varied ways home cooks are cooking today, and destined to have wide appeal."
Originally self-published by Irma S. Rombauer, a widowed St. Louis homemaker, the first commercial edition of Joy of Cooking was published by the Bobbs-Merrill Company in 1936. Subsequent editions were revised and updated by Irma Rombauer and Marion Rombauer Becker throughout the 20th century, selling hundreds of thousands of copies by the end of World War II. Marion Rombauer Becker assumed the Joy mantle with the publication of the popular 1963 edition. Marion's son Ethan Becker helped her revise the 1975 edition, and then he oversaw the releases of the 1997 and 75th Anniversary (2006) editions. Today, there are almost 20 million copies of Joy of Cooking in print.