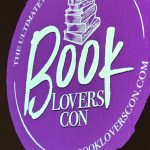 New Orleans, LA
May 18, 2019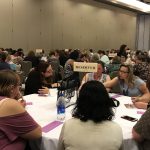 I was up early Friday morning for an event called Three Truths and a Lie! It was a Romantic Suspense, Mystery, Horror and Thriller signing: Amateur Sleuths wanted! Twenty-one authors, seated at tables around the room, presented three truths and a lie, and discerning readers used their brains, lots of laughter and clues, and some pretty good guessing to figure which was which. It was fun to watch the enthusiasm of the readers as they worked to puzzle it out. Those clever enough to separate the truth from the lies won, and were rewarded with prizes. Finally everyone chose a couple of books from the favorite authors they'd met, and they were able to get them signed.
Next came an event called Small Town Romance Readers Carnival. Yep, it was just like it sounds. The room was decorated to look like a small town square, complete with evenly spaced trees, lit with twinkling lights, and wrought iron benches to relax and enjoy the show. We tried our hand at a variety of games from unique sounding ones like Gone Fish'n Pond, Snake In My Boots, and  Krazy Ball to good old standards like Ring Toss, Ball Bounce, and Dice Game. It was a chance to meet authors  Jamie Beck, Tracy Brogen, Melinda Curtis, June Faver, Suzanne Woods Fisher, Liz Johnson, Donna Kauffman, Sally Kilpatrick, Emily March, Nancy Naigle, Terri Osburn, Abigail Owens, Sheila Roberts, Farrah Rochon, JoAnn Sky, Anna J. Stewart, and Rae Anne Thayne. Everyone won fun swag from the authors, and a lucky five won a grand drawing basket.
I didn't get to attend until almost the end, but friends told me the Never Ending Story with Charlaine Harris and friends was hilarious, a real blast. 
Day two ended at the Voo Doo Vampire Club, an event designed to emulate a sophisticated, somewhat creepy vampire bar. There we talked with friends, visited food stations and drink bars positioned around the room, and watched the finest vampire attire parade on past. Once again the costumes were fabulous, red and black, feathers, leather, and masks. Vampire costumes so artfully done they would make Count Dracula jealous.
~ Kathie Firzlaff for Readers Entertainment