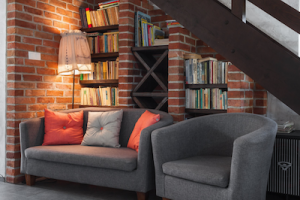 How to Create the Reading Den of Your Dreams
By Anica Oaks
A reading den is the ultimate home amenity for any bookworm. Crafting the perfect place to tuck yourself away from the world and immerse yourself in another is easy with these tips. You don't need a massive space with an entire room dedicated to books to create a comfortable, inviting space. These suggestions will help you bring some serenity to your space and craft a designated reading spot that always feels like home.
Find the Perfect Seating
This is by-far the most important aspect of any reading den. If you don't have a lot of room to work with, then a cushy armchair is going to essentially become your den. If you're fortunate enough to have an entire room to devote to your books, then you can get a little more luxe; consider an L-shaped couch, which is perfect for lounging and will make it easy to always strike a comfortable reading position.
Have an Organization System
Whether it's antique shelves or built-in cabinetry, you need a good way to organize your collection. Some people like to sort their books by color, others prefer a more old-school method and use the author's last name. You may even want to categorize your books by genre and subject-matter. The choice is yours! Don't be afraid to try different things.
Make Space offers 12 creative ways to organize your book collection including separating hard covers from paperbacks, stacking and arranging books according to the feeling they evoke.
Set the Scene with the Right Lighting
Invest in some quality shutters so you can darken your room and make it feel cozy. You should rely on warm lighting with orange undertones that create a sense of peace. Some reading lamps on an end-table are also essential.
If you like to read by candlelight, make sure you set the candle far enough away from your books to reduce the risk of a major fire in case it falls over.
You don't need a lot of space, a ton of books or a huge budget to make a reading den of your dreams. Place the greatest emphasis on feeling—choose furnishings and decorative objects that make you feel peaceful and comforted. When you prioritize the emotion you want your space to conjure, making the right design choices becomes that much easier. Don't forget to stop at the bookstore and choose some exciting new reads to complete your space.
——–Anica is a professional content and copywriter who graduated from the University of San Francisco. She loves dogs, the ocean, and anything outdoor-related. You can connect with Anica on Twitter @AnicaOaks.