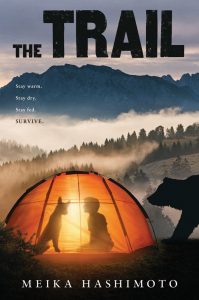 Imagine Entertainment, a Ron Howard company, has secured the rights to produce the bestselling YA book, THE TRAIL by Meika Hashmoto. It will be produced through Imagine's "Kids & Family" division.
"We were thrilled that Imagine fell in love with The Trail because not only do they have impeccable taste and a track record of incredible productions, but we know that together we will create what is sure to become a classic family movie," publisher Scholastic said in a statement.
"I'm so grateful to be making this film alongside everyone at Imagine and Scholastic. Even though I'm technically not 12 anymore, I still haven't outgrown all of my own insecurities, and retain my love for hiking, camping, and embarking on reckless adventures. And I'm proud to say I'm nearly self-reliant. I identify deeply with the themes of friendship, loyalty, loss, and the struggle to find my own personal strength," said Quinn Emmett who has been tapped to write the screenplay.
Hashmoto's book is a coming of age tale and center's around nine-year-old Toby. Here's the blurb from Amazon:
Toby has to finish the final thing on The List. 
It's a list of brave, daring, totally awesome things that he and his best friend, Lucas, planned to do together, and the only item left is to hike the Appalachian Trail. But now Lucas isn't there to do it with him. 
Toby's determined to hike the trail alone and fulfill their pact, which means dealing with the little things — the blisters, the heat, the hunger — and the big things — the bears, the loneliness, and the memories.
When a storm comes, Toby finds himself tangled up in someone else's mess: Two boys desperately need his help. But does Toby have any help to give?
The Trail is a remarkable story of physical survival and true friendship, about a boy who's determined to forge his own path — and to survive.