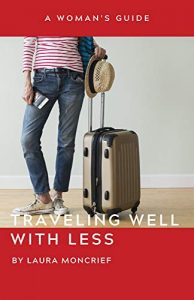 TRAVELING WELL WITH LESS: A WOMAN'S GUIDE—AVAILABLE NOW
Laura Moncrief is on a mission to help women shed their baggage—literally. A septuagenarian with trips to more than 70 countries on all seven continents under her belt, Moncrief has no intention of slowing down… or schlepping more than a carry-on along the way.
A former financial planner and personal finance teacher, Moncrief teaches other women how to do the same with similar economy in her new 21- page booklet, Traveling Well With Less: A Woman's Guide—currently on sale for just $.99 in Kindle eBook or $3.99 in print on Amazon. "There's freedom in traveling with so little—and more room in a standard carry-on than most people think!" says Moncrief.
In addition to packing tips and travel advice, the guide offers access to a printable version of Moncrief's packing lists on her website via a password obtained in the book. To schedule an interview or presentation/packing demonstration, contact Mickey Mikkelson of CreativeEdge at (402) 464-6925 or mickey.creativeedge@gmail.com.
Laura Moncrief is a native Nebraskan who has lived in Virginia, Colorado, Montana, and Georgia. A stay-at-home mother for 18 years, Laura earned her Bachelor of Science degree at 43, graduating with high distinction from the University of Nebraska-Lincoln. She has been an American Express Financial Advisor, has investigated security clearances for the federal government, and also taught finance at her alma mater before retiring.
Today, Laura continues to travel all over the world. She is the published author of six genealogy books and two about the early pioneers of Divide and Woodland Park, Colorado. The mother of three daughters, grandmother of seven and great-grandmother of two, Laura resides in Arizona … at least for now. To learn more, please visit: www.LauraMoncrief.com.
Traveling Well With Less: A Woman's Guide by Laura Moncrief / ASIN: B082MSWLXF