The Moonlight School by Suzanne Woods Fisher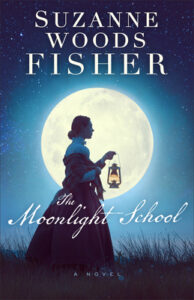 My rating: 5 of 5 stars
Wow, I'm at a loss for words with this book. I'm not even sure how to describe it. I had to read this book when I had some quiet time, which was usually at night when the kids were asleep. I truly LOVE this story. I had never heard of Cora or her fight to end illiteracy throughout her county in Kentucky. I had to look her up! The way the story is layout grabbed me from the start. I always wanted to know what would happen next. The way the history is told through the characters of this story is gripping. Lucy is a great character and I love how she found her place in such a small town. I liked how she grew as a character and was strong. Brother Wyatt and Fin were great characters too. They each brought their own uniqueness to the story. I'm so glad I had the chance to read this story and found a great new author too! Happy reading my friends.
Book Summary:
Haunted by her sister's mysterious disappearance, Lucy Wilson arrives in Rowan County, Kentucky, in the spring of 1911 to work for Cora Wilson Stewart, superintendent of education. When Cora sends Lucy into the hills to act as scribe for the mountain people, she is repelled by the primitive conditions and intellectual poverty she encounters. Few adults can read and write.
Born in those hills, Cora knows the plague of illiteracy. So does Brother Wyatt, a singing schoolmaster who travels through the hills. Involving Lucy and Wyatt, Cora hatches a plan to open the schoolhouses to adults on moonlit nights. The best way to combat poverty, she believes, is to eliminate illiteracy. But will the people come?
As Lucy emerges from a life in the shadows, she finds purpose; or maybe purpose finds her. With purpose comes answers to her questions, and something else she hadn't expected: love.
Inspired by the true events of the Moonlight Schools, this standalone novel from bestselling author Suzanne Woods Fisher brings to life the story that shocked the nation into taking adult literacy seriously. You'll finish the last page of this enthralling story with deep gratitude for the gift of reading.